CENTRAL LONDON office fit out and relocation for X4 Group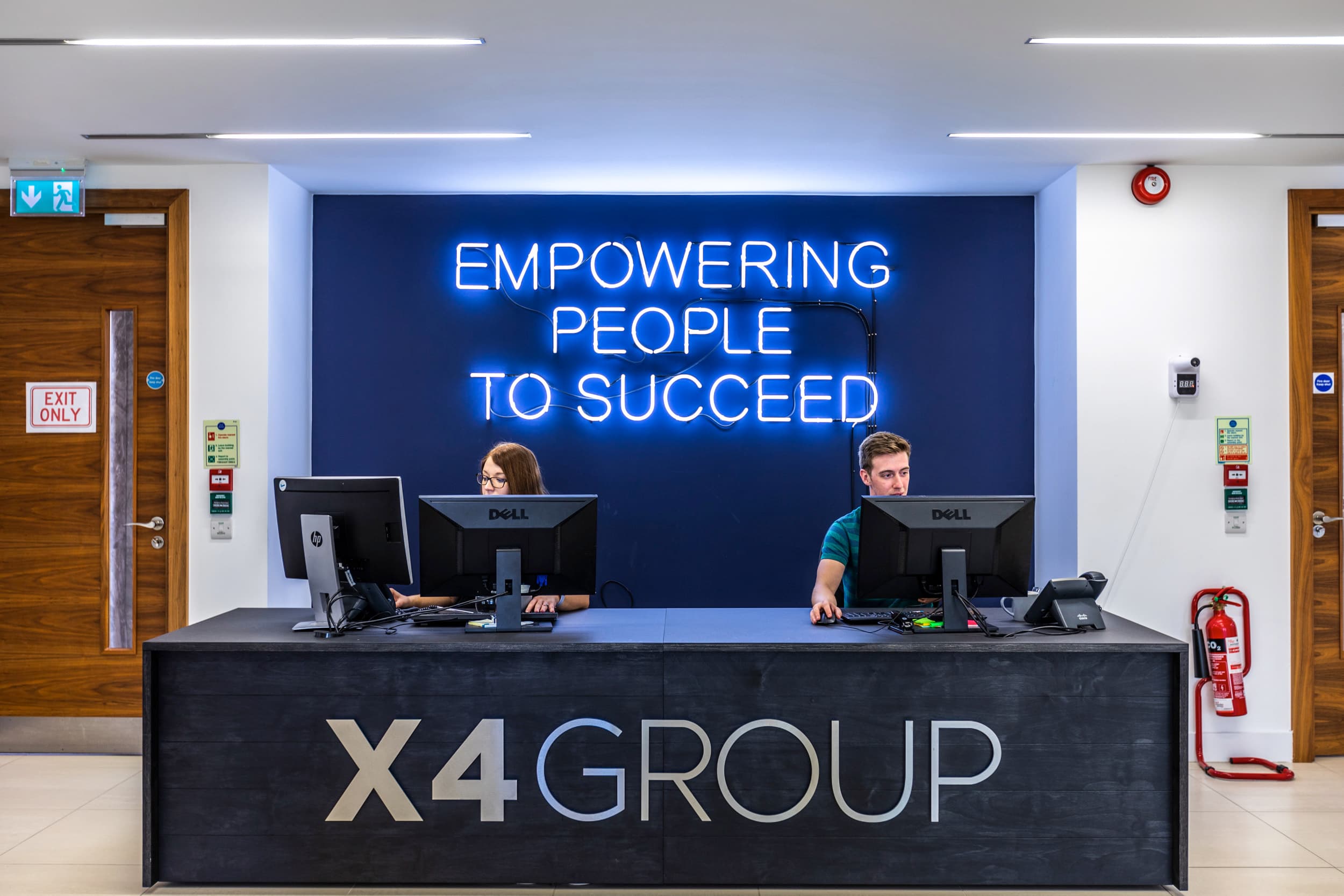 X4 Group is a growing recruitment company and, with their lease running out, needed to move into larger offices. They were fortunate to find suitable space in an office building they had moved out of a few years earlier.
Managing to find new offices in the same vicinity as their existing helped to reduce staff disruption and, being just off the Strand near The Aldwych, has wonderful views over Somerset House and the Thames, ideal for the fireworks at New Year.
The space raised several initial issues: firstly, it was spread over two floors - the ground and the fourth floors. Secondly there was no direct access from Waterloo Bridge, meaning that all materials and the relocation itself would need to be carried from one side of the building and up several floors to where required on the south side.
The brief
At our initial meetings and briefings there were some key points for our space planning and design team to work with and incorporate within the scheme:
The business requires large groups of people to operate on telephones and keyboards
Breakout space to allow staff to mix and socialise when not working and relax away from an intense work environment
Task-appropriate meeting / interview / training space was an important requirement as well as an efficient use of floor space
A large training space would also double up as a sociable / break out space for X4 Group to be able host large client and staff gatherings
The reception area should reflect a young dynamic company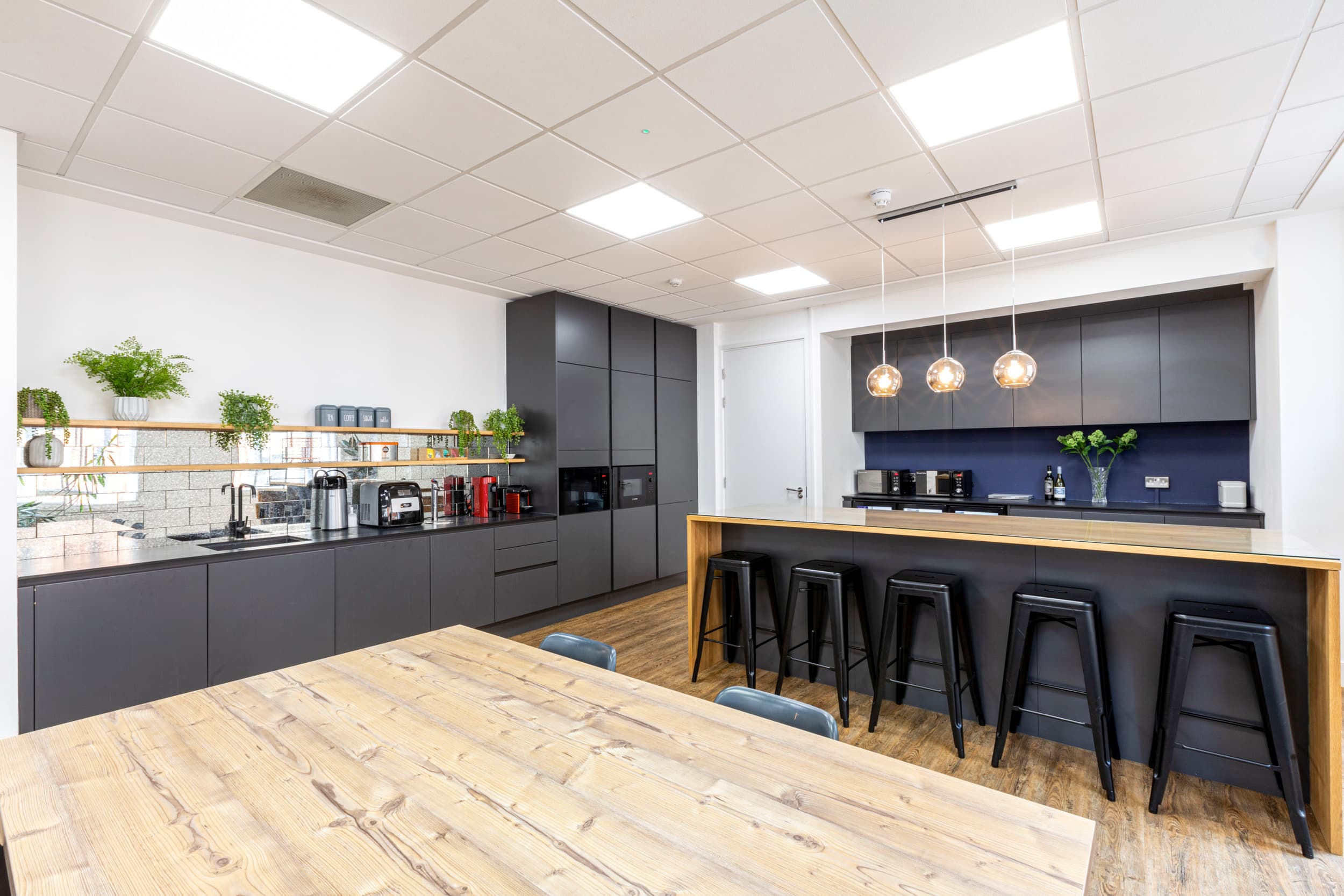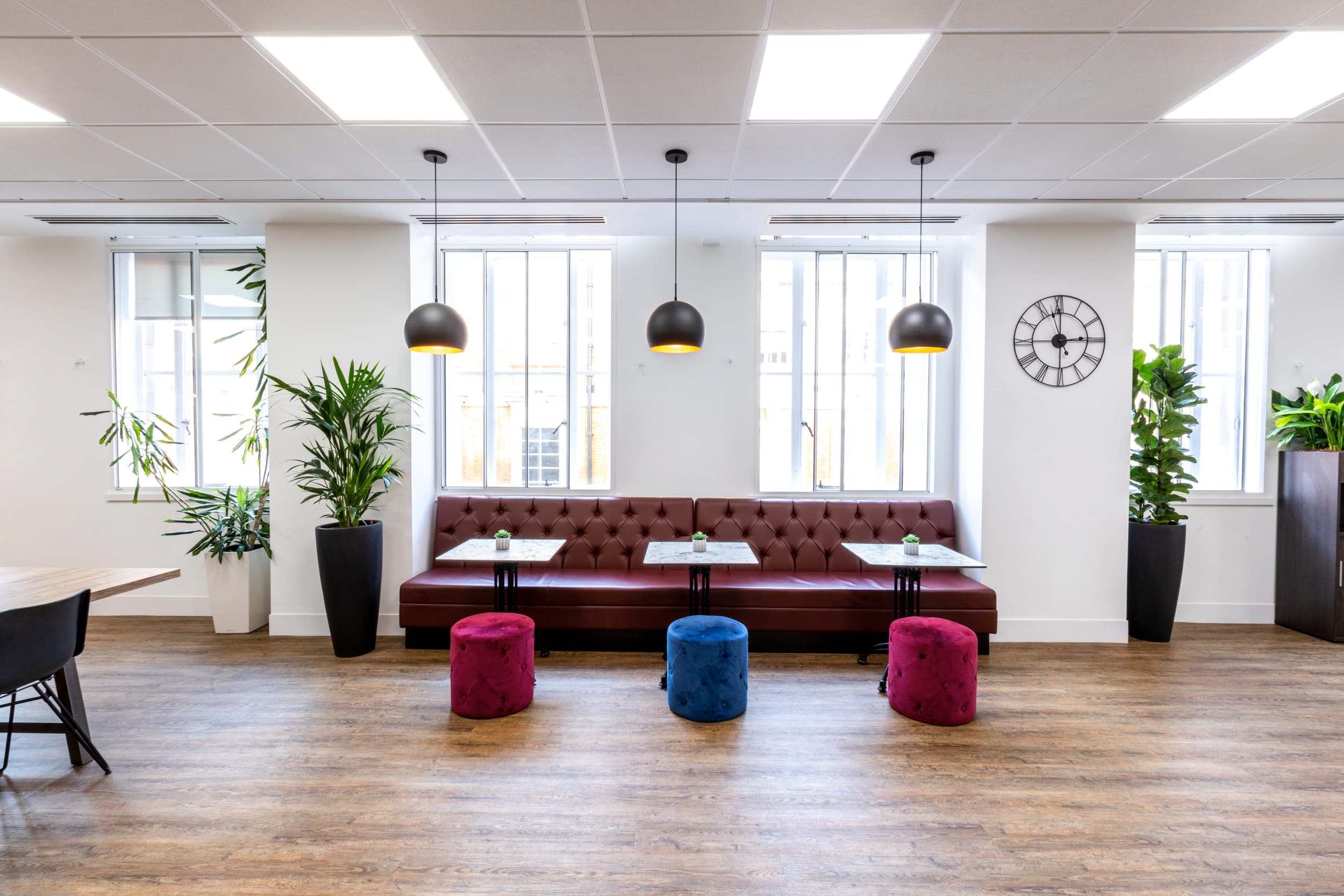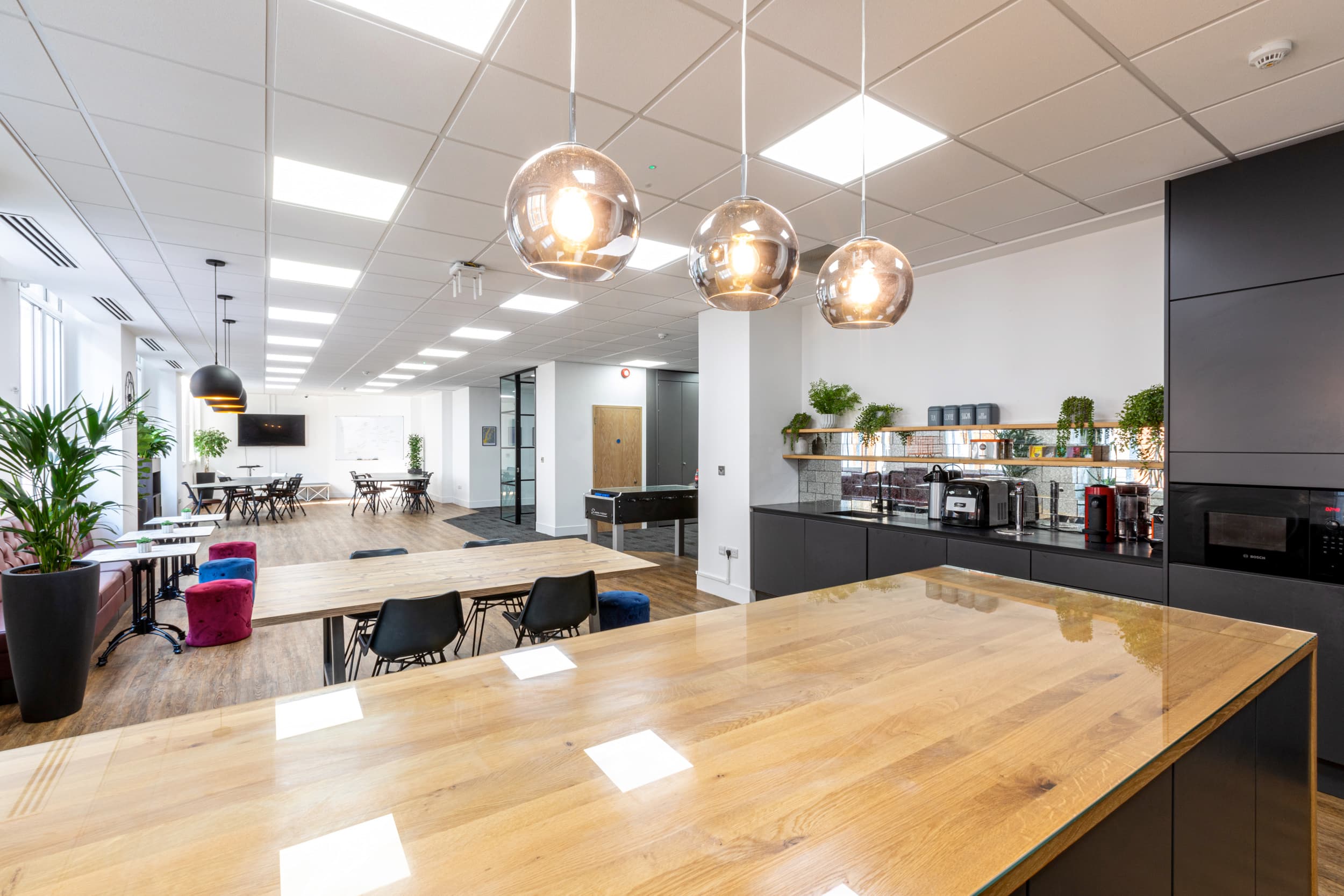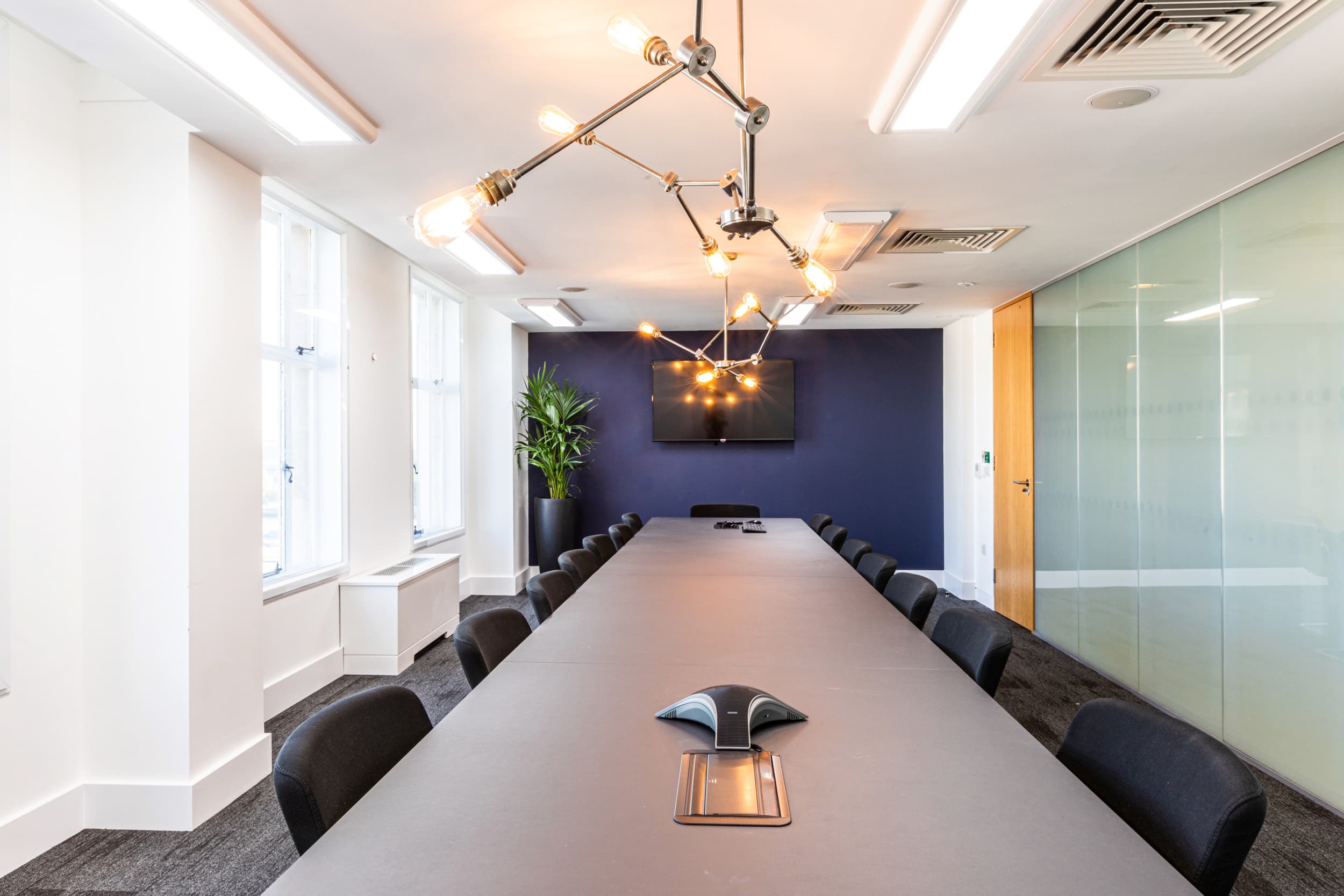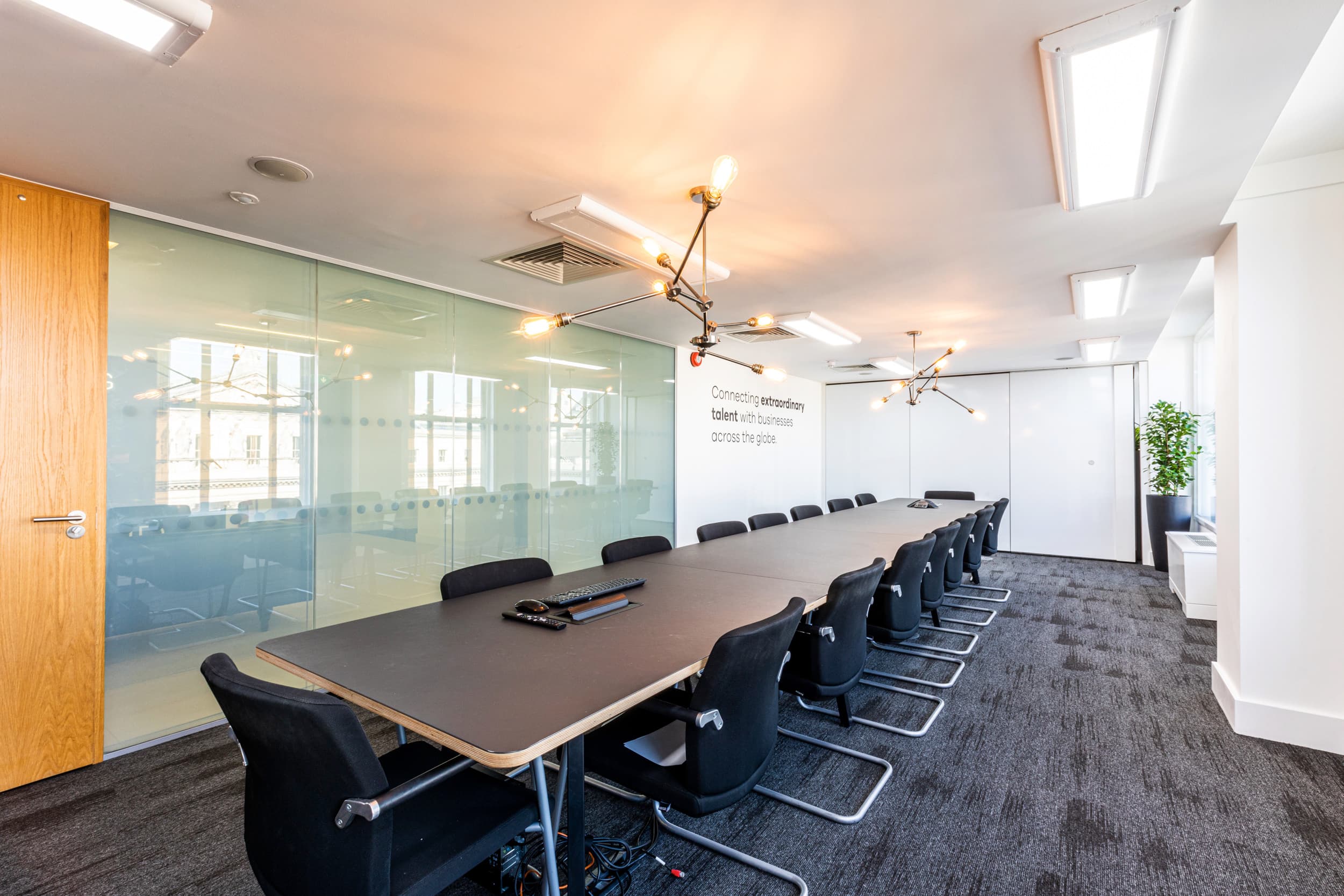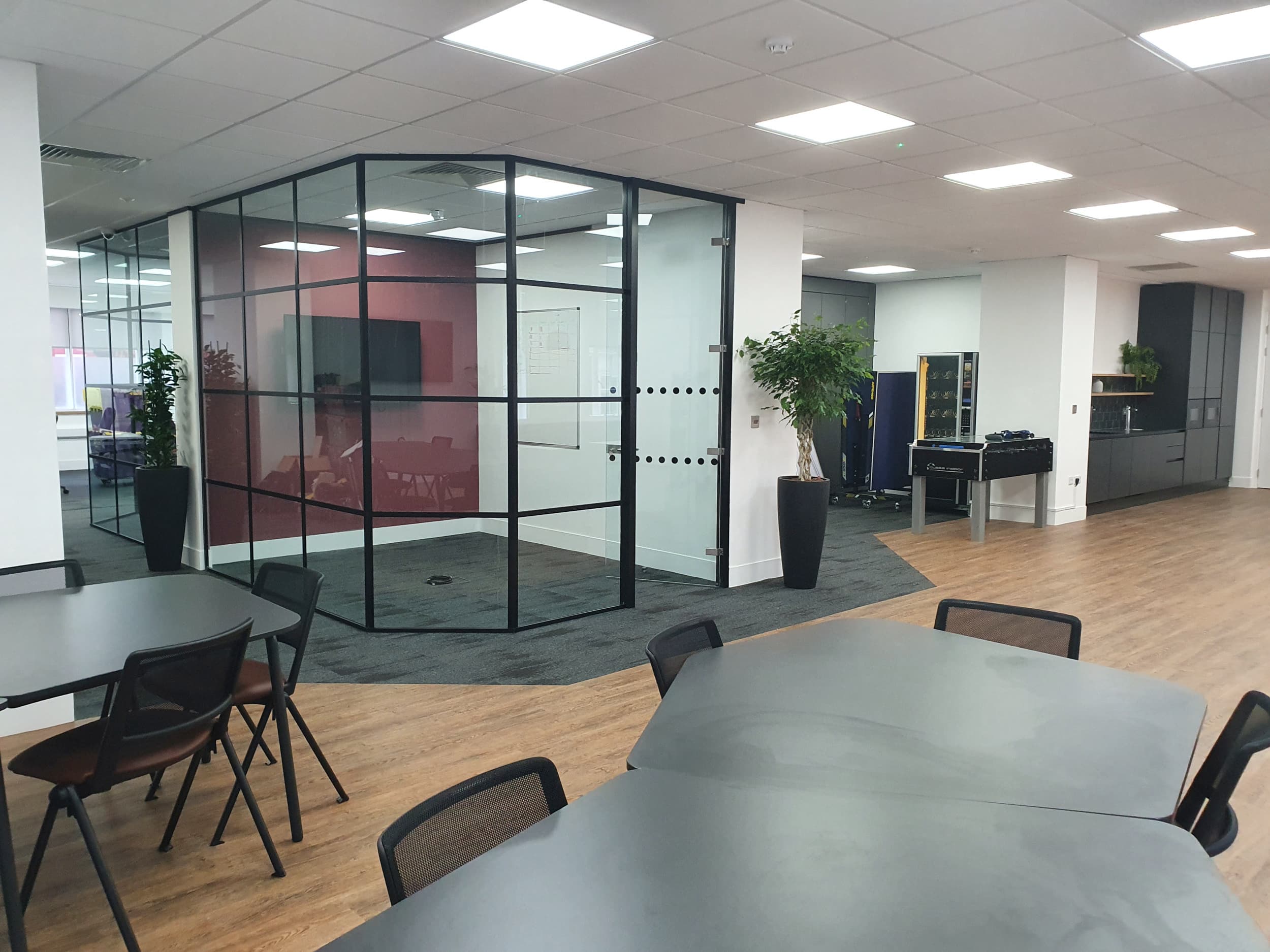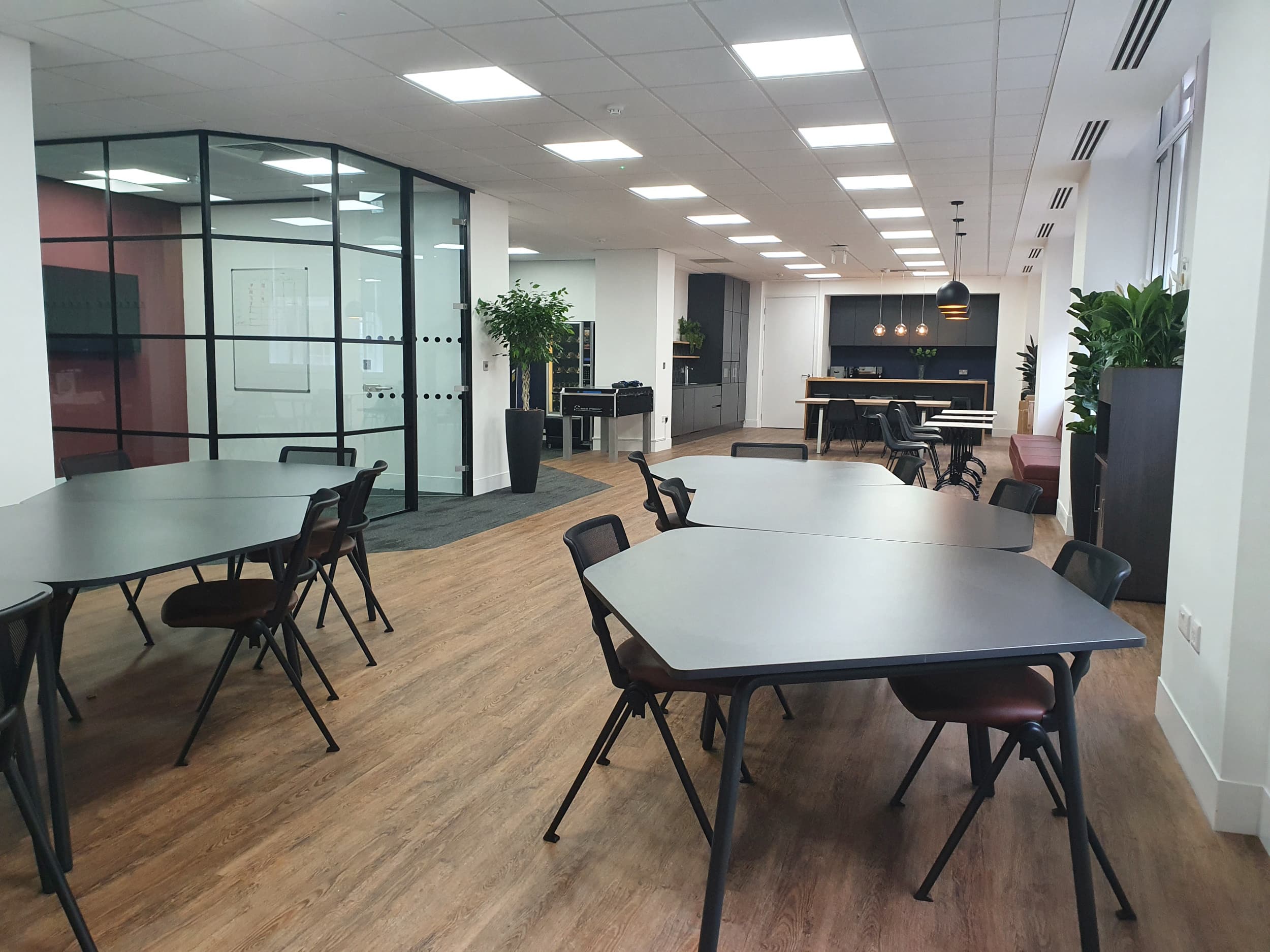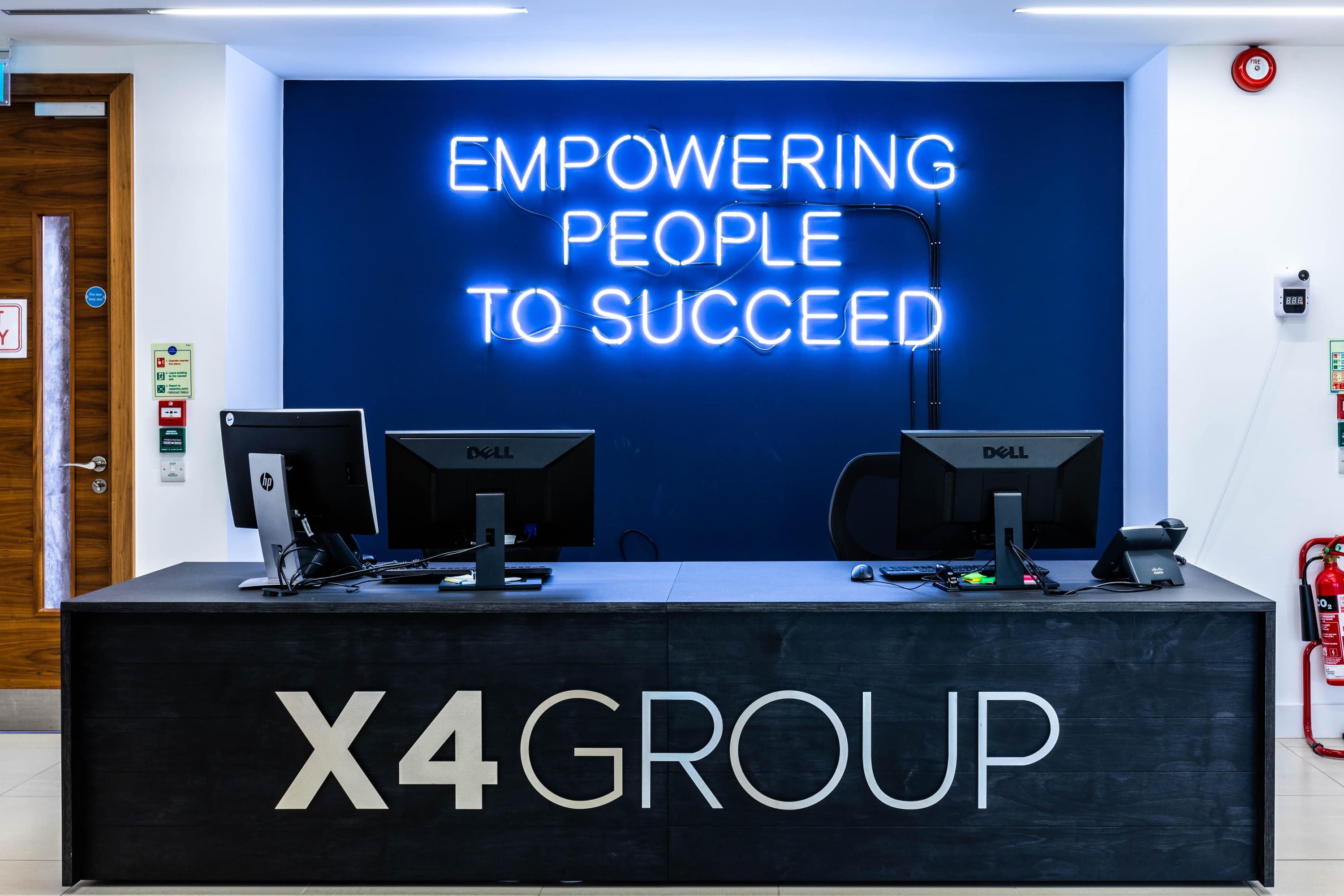 The IRS solution
As the space covered two floors, we decided that the main social / training and break out space would occupy the ground floor although, a smaller tea point was established on the 4th floor for quick drinks.
By utilising the ground floor in this way and by allocating sufficient budget to create a more desirable and usable space, we would also be able to encourage staff to break away from their desks and satisfy the following:
The ability to re-heat food and eat away from work desk space
Noise levels maintained at levels appropriate to the type of work being undertaken such as telephone calls, meetings, confidential interviews, breakout dining areas but more importantly table tennis and foosball space
Creating a space that staff want to go to, increase staff wellbeing as well as projecting the company brand and values to all staff and visitors
The offices had recently undergone a Cat A level fit out by the landlord and so, from the budget, we were able to allocate funds to those specific elements and areas identified as high priority during our planning stage and also we were able to really target to enhance and add corporate identity to the space.
Crittal style partitions complemented the architecture of the building and created interview rooms that would make new candidates feel special and valued when they came into the space and was in keeping with the overall design concepts and themes.
We were able to re-use and upcycle much of X4 Group's existing furniture where quality was not comprised, for example the bench desking was broken down and re-assembled with some additional components to suit the new layouts for staff and the seating re-upholstered. This allowed us to select key pieces of furniture to create an individual X4 Group workplace including the boardroom table with feature lights and the reception desk and neon signage.
Relocating X4 Group
From the start of this project the crucial element was always going to be the relocation of X4 Group to their new offices. How to balance the importance of the move while still allowing the business to operate until the last moment and guarantee that 150 staff would all be at their desks in the new offices able to work on Monday morning was the main priority.
Working in collaboration with X4 Group's own IT department, our specialist relocation teams (furniture and IT) we ensured that:
All IT equipment disconnected logically, labelled and packed away orderly for re-connection
Set aside re-useable cabling that was supplemented with additional at new offices
Dismantle all furniture ready for transport to new offices
The physical move works started at 3pm on a Friday afternoon and by noon on the Sunday, all desks and IT equipment were installed, connected and tested ready for Monday morning. Indeed, by the end of Monday all crates were unpacked, and staff had managed to have a fully operational first day in their new offices.
To find out more
If you would like to find out more about how we can help develop your dream office space, give us a ring on 020 8405 0555 or send us a message.