WIMBLEDON refurbished reception joint project with the landlord and the tenant
Working closely with the landlord and the incoming tenant we created a design concept to refurbish a tired, standard and dated building reception into an light and welcoming area for a fast growing recruitment company
Before, Concept, Reality
Working initially with the landlord we started work developing a concept with the brief of creating an inviting up-to-date reception area. The existing space was typical of it's time with a lot of cold hard surfaces and utilitarian barrier mats to prevent dirt and slippery floor surfaces.
We had previously worked with the landlord on some of the upper floors of the building to make it ready for new tenants to move in and make their own, but this time the landlord wished for something more design-led and attractive for potential tenants.
During the process the new tenant was included in the design process so their input, needs and requirements could be included in the final approved scheme. By creating high quality computer generated visuals we were able to show both the landlord and tenant how the refurbished space would look before any works on-site began.
The concept
By repositioning the reception desk closer to the entrance door visitors would be greeted as soon as they entered the building without the slightly intimidating and sometimes slippery walk to the far end of the space. This also allowed for a semi-private seating area where guests could wait quietly and unobtrusively before being met and taken to their various appointments and meetings on other floors of the building.
Bespoke custom designed and built furniture, acoustic wood panelling, plants and feature lights are central features to the whole design. Soft curves are repeated in the reception counter and overhanging plant raft as well as the floor covering design to produce a calm, welcoming environment for staff and visitors to the building. The colour palette of light wood, white, a variety of greys and greens as well as a hint of purple adds depth to the overall scheme.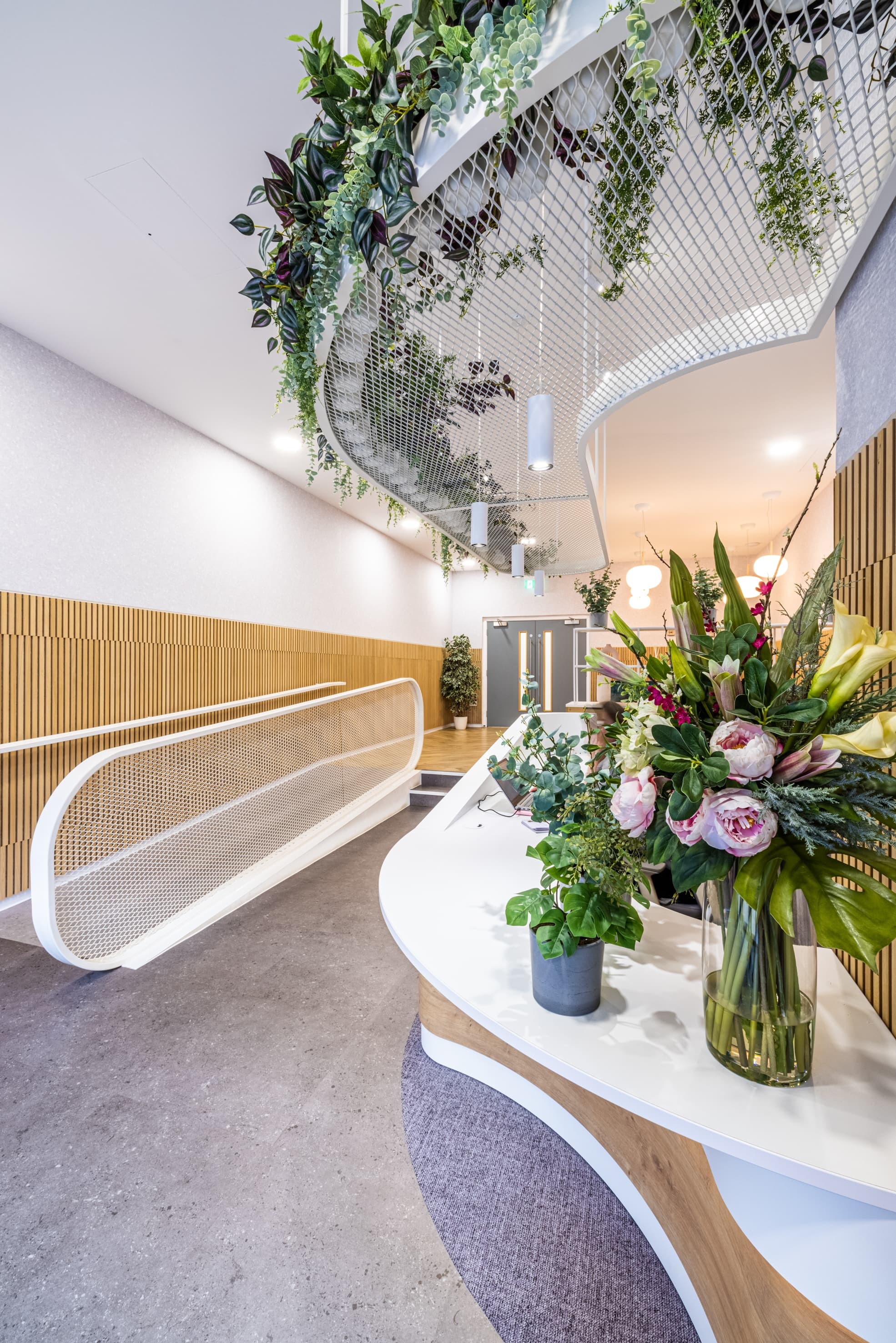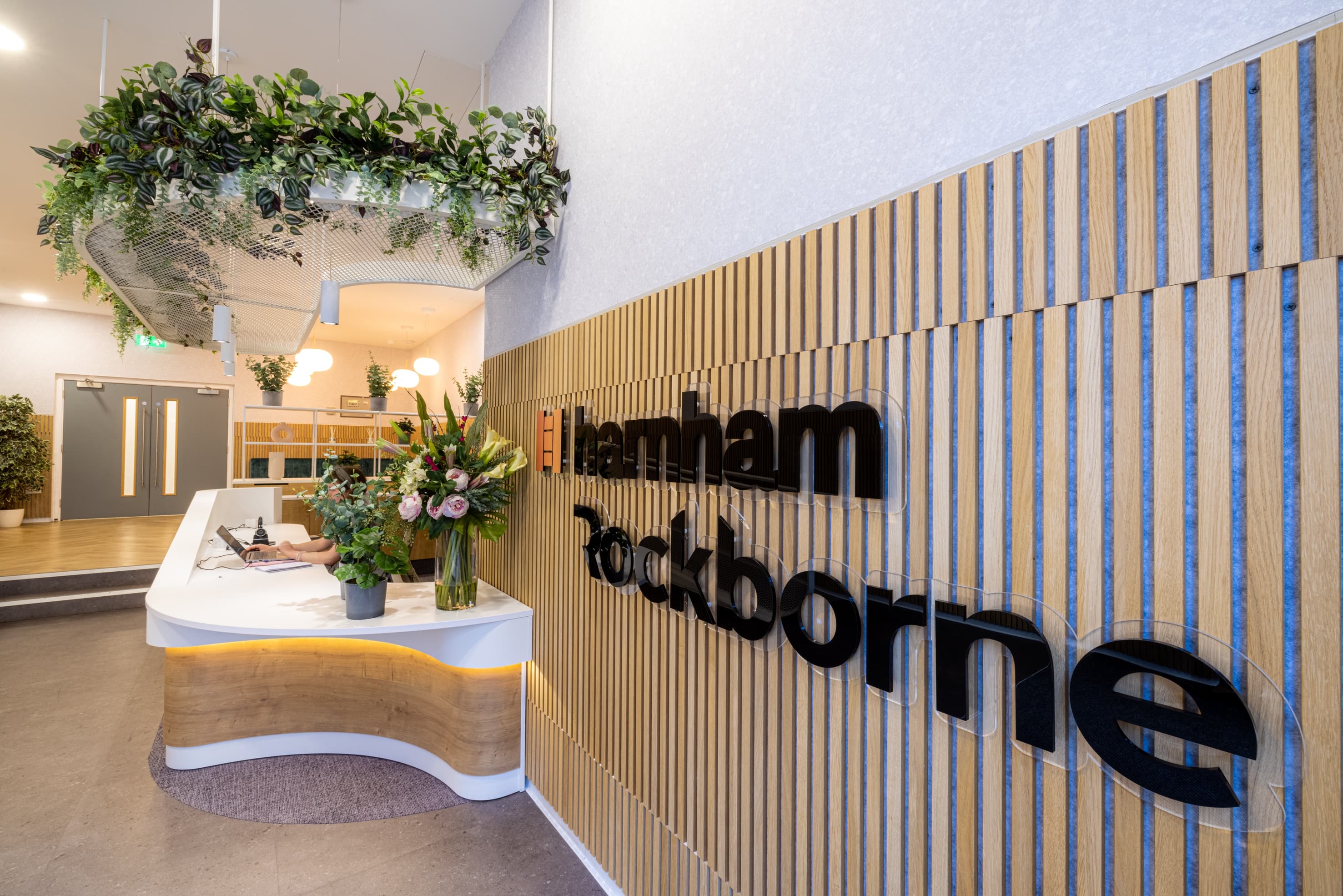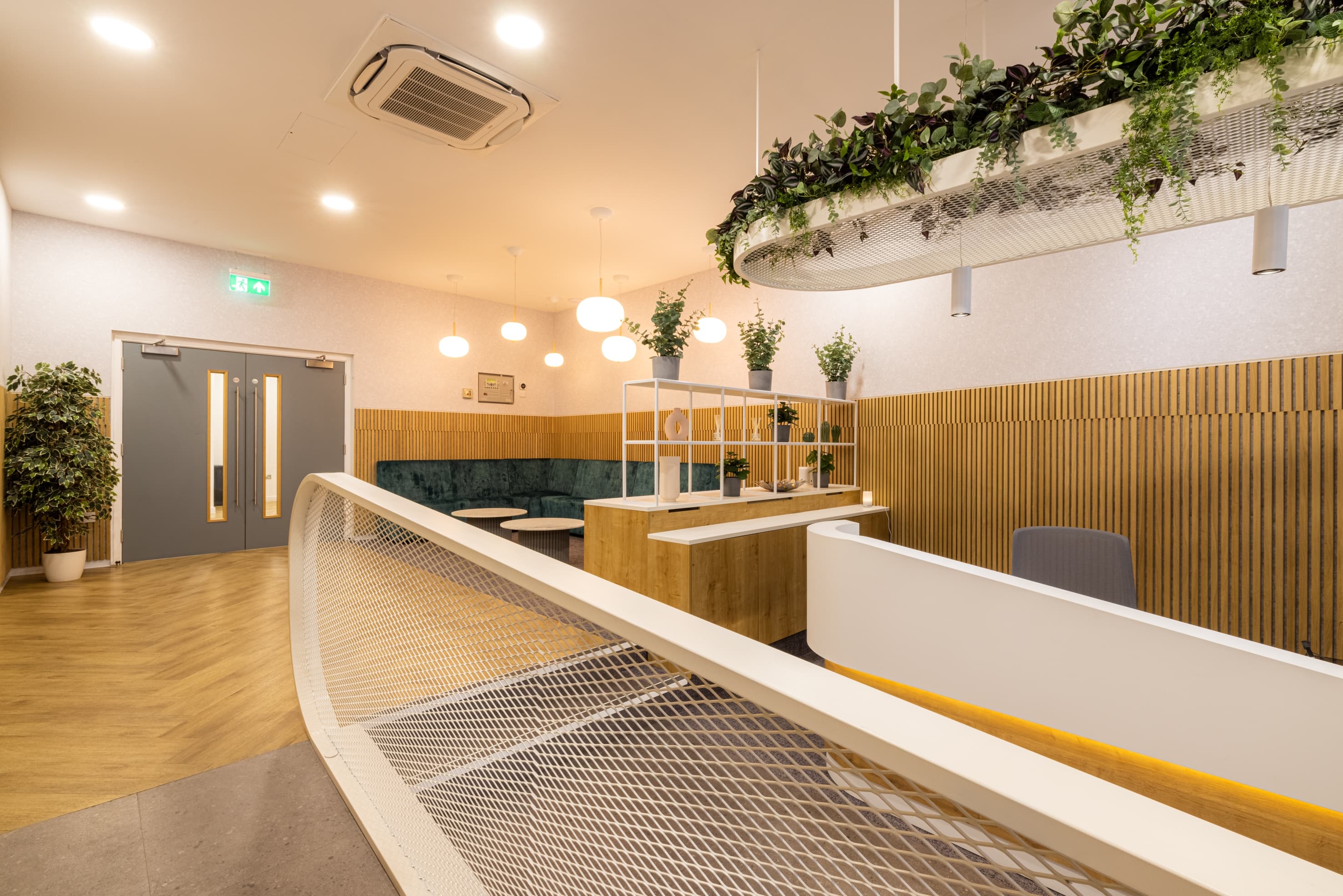 The detail
This project included many bespoke furniture items where we able to commission quality craftsmen to build to our designs the reception desk and iron works including the hanging plant raft and balustrade ensuring that the final finish was just as we had envisaged and designed.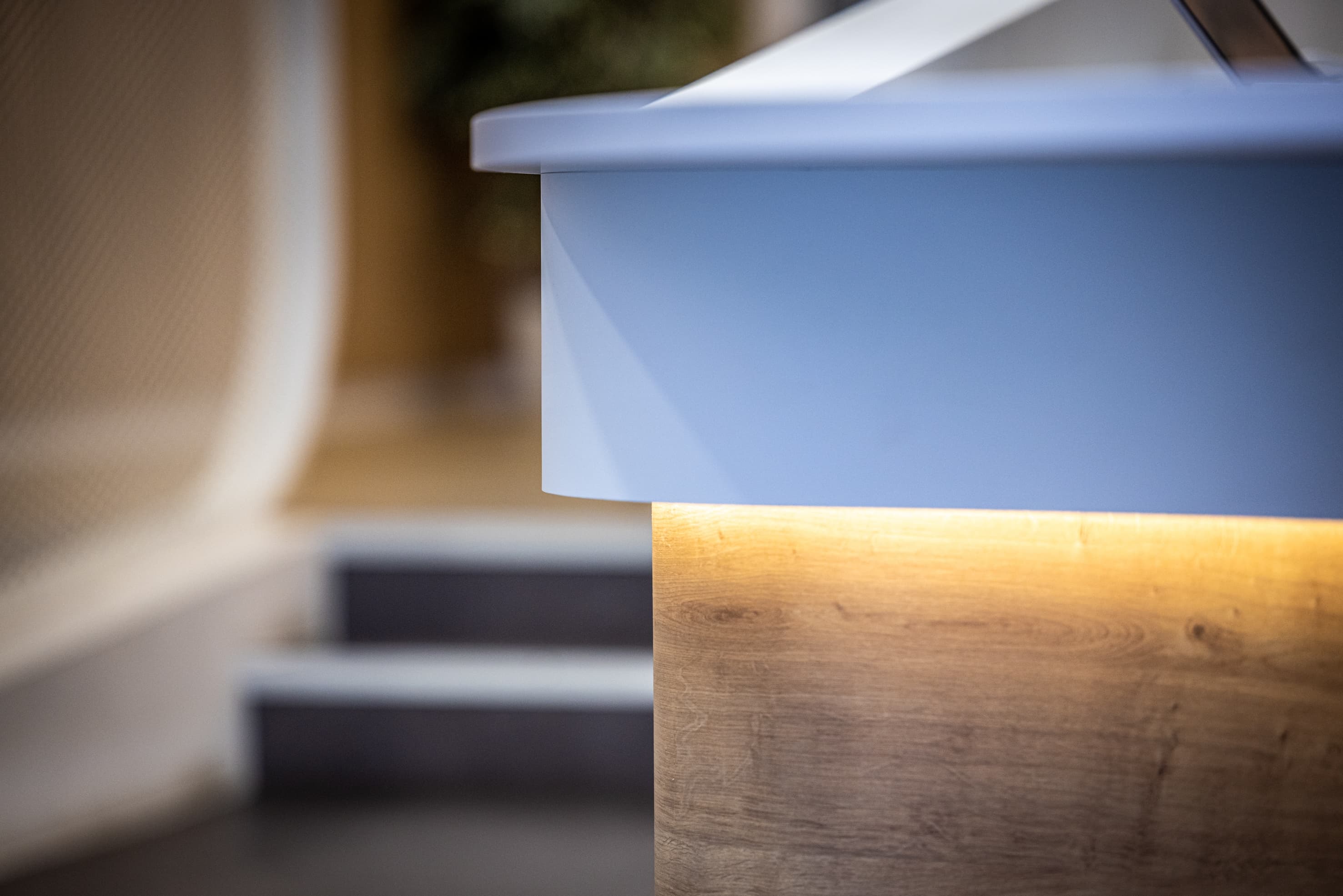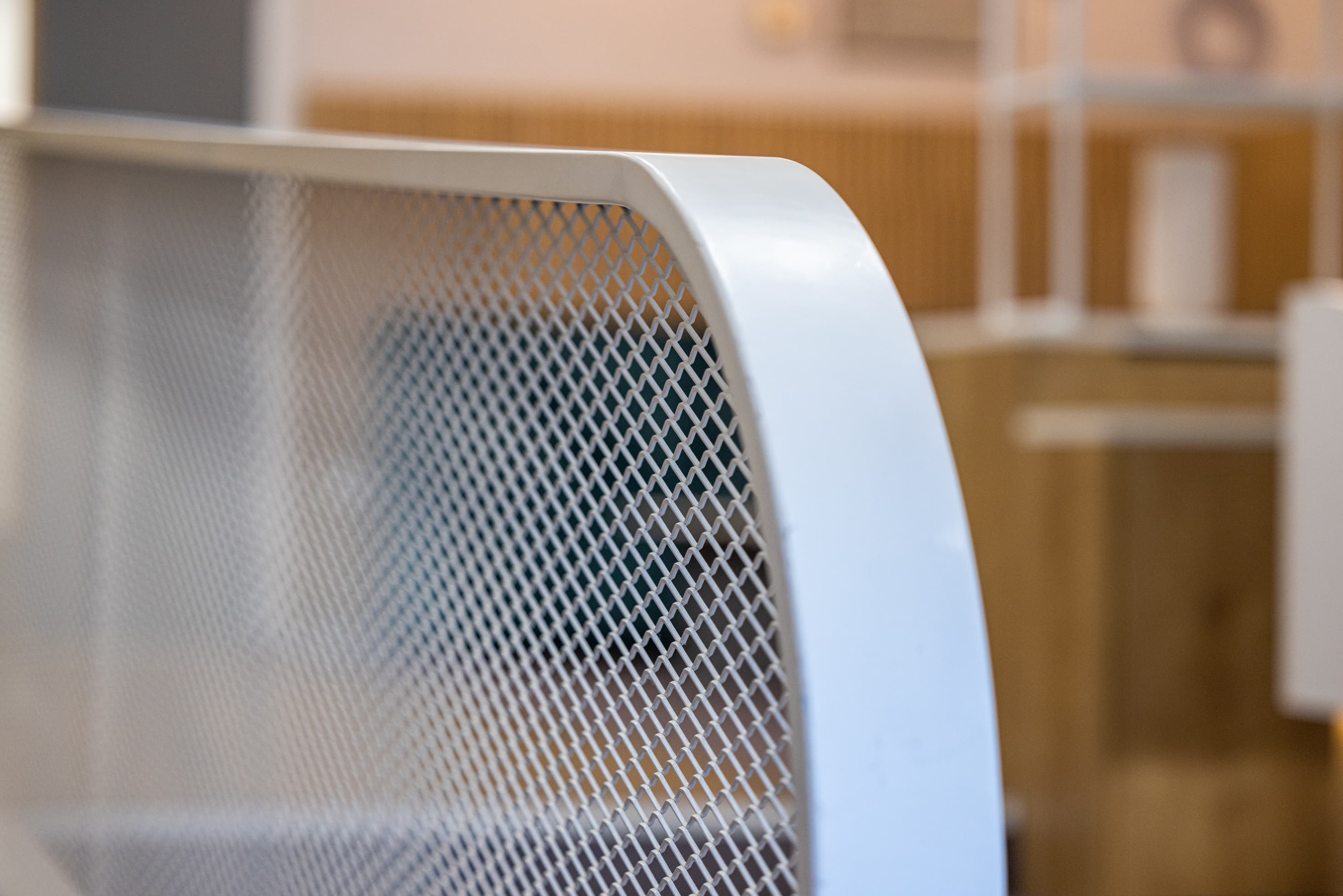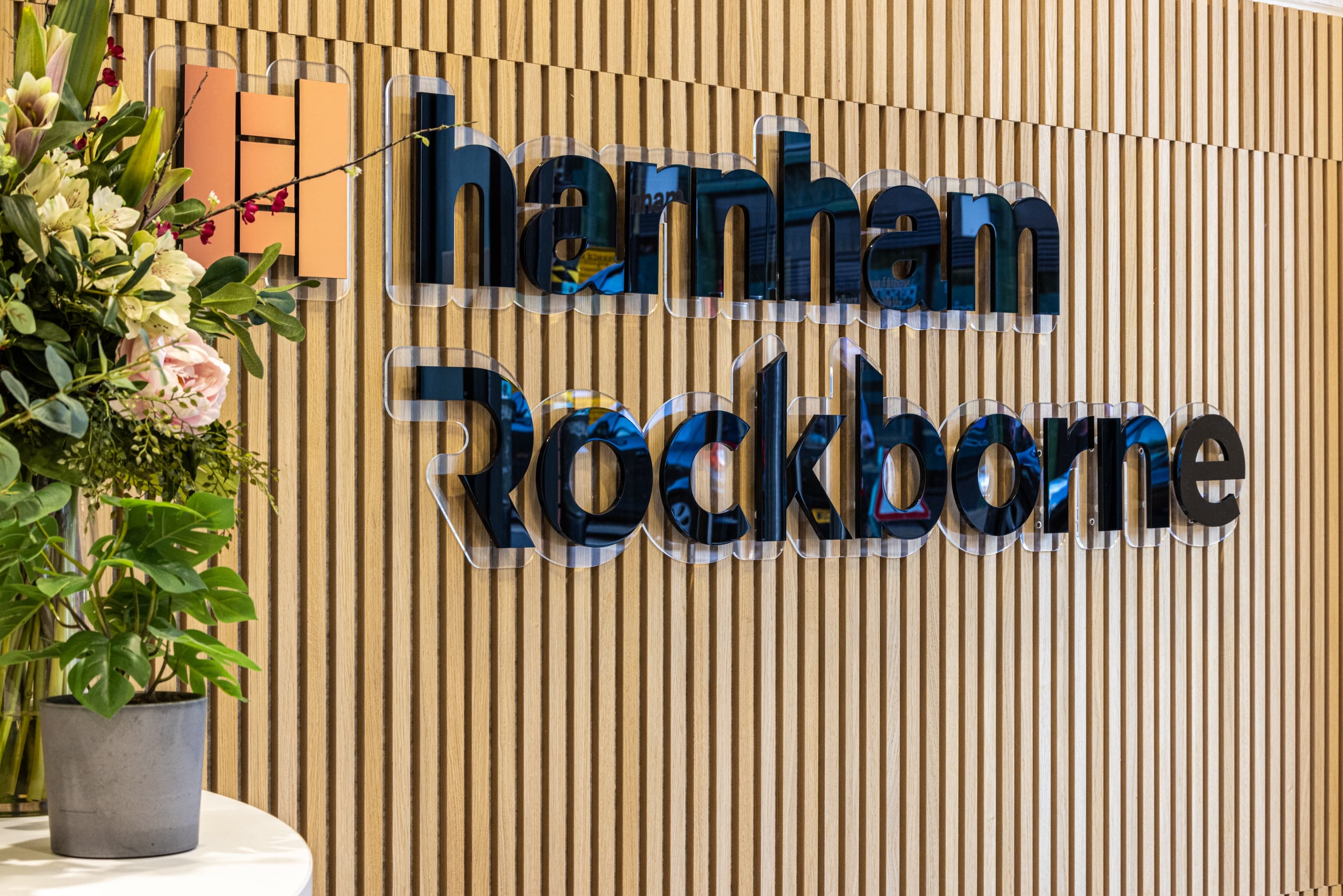 To find out more
If you would like to find out more about how we can help develop your dream office space, give us a ring on 020 8405 0555 or send us a message.