HOLBORN office fit out and relocation for Khoros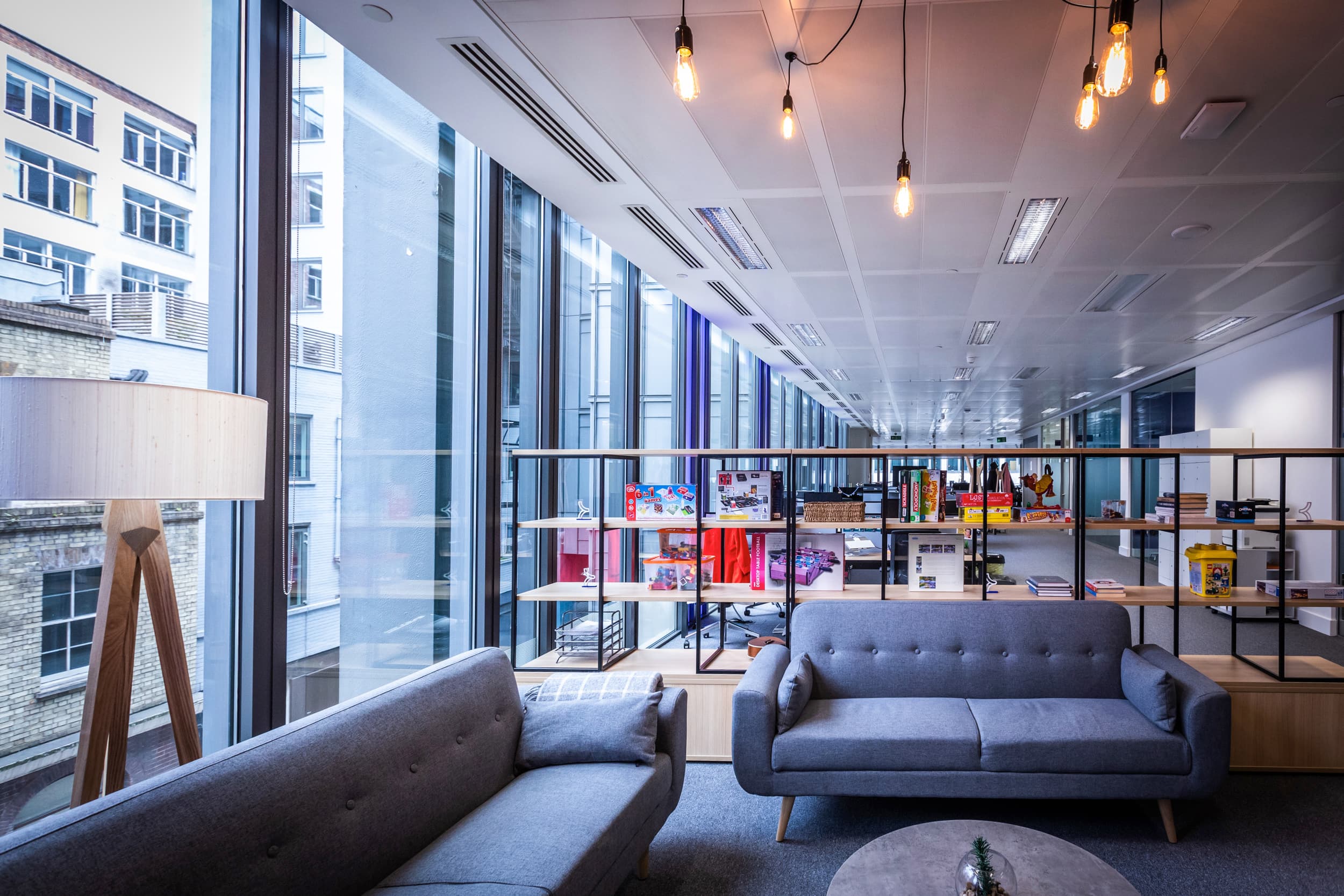 Khoros provides a customer engagement platform that allows brands to interact with their customers on their whole journey across social media, from the first offer, through to sale, after-sale care and beyond. Khoros was formed from the merger of Spredfast and Lithium and has a global presence.
IRS's relationship with Khoros
IRS relocated Spredfast two years ago from serviced offices just off Trafalgar Square to Covent Garden. At the time, we space planned the area to allow for a certain amount of growth. However, due to expansion and the merger with Lithium, then based in Hatton Garden, this space soon became far too small and so Khoros came back to us to ask us to manage another planned relocation.
Our history with Khoros and our understanding their business gave us a great insight into potential requirements with a new office. We therefore worked with JLL to look at several spaces, before choosing new space in High Holborn.
The brief
The business had undergone multiple changes in a very short period of time, so any refurbishment expenditure really had to be cost-justified. It was essential that the work would really enhance the space for staff wellbeing and provide sufficient dedicated areas that would satisfy their day-to-day needs.
Following discussions, it soon became clear that much of the existing infrastructure could be re-used such as the meeting rooms, floor coverings, cable infrastructure and Electrak below the floor. We therefore decided that targeting several key areas would have the most striking effect on the space.
Khoros makes great use of social events and requires a large open plan space that can cater for evening get-togethers and presentations, so a new tea point would need to be easily accessible and useable. With large groups of people present they wanted a large TV screen in the presentation space to be seen by as many people as possible.
The move in deadline was set for August 2019.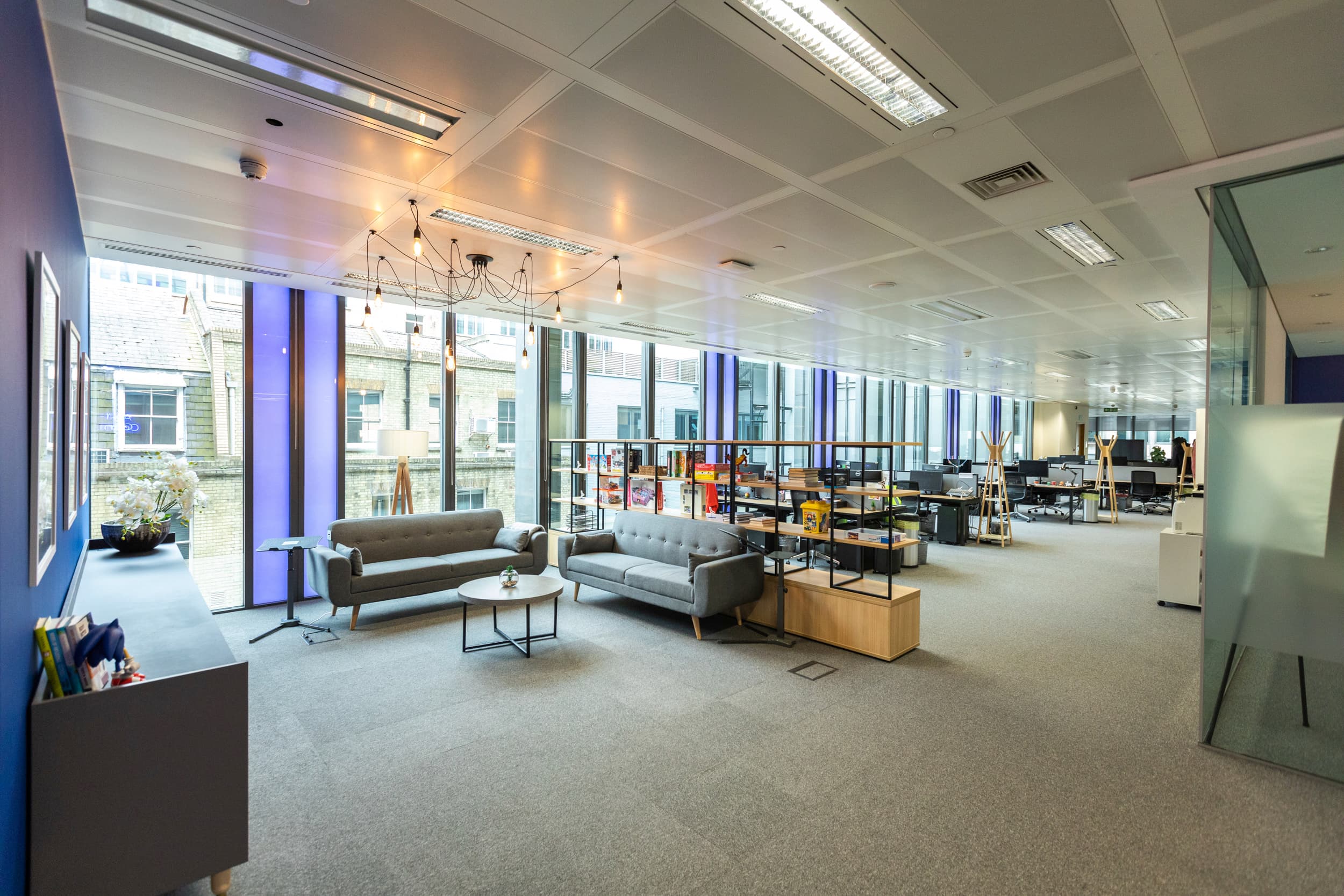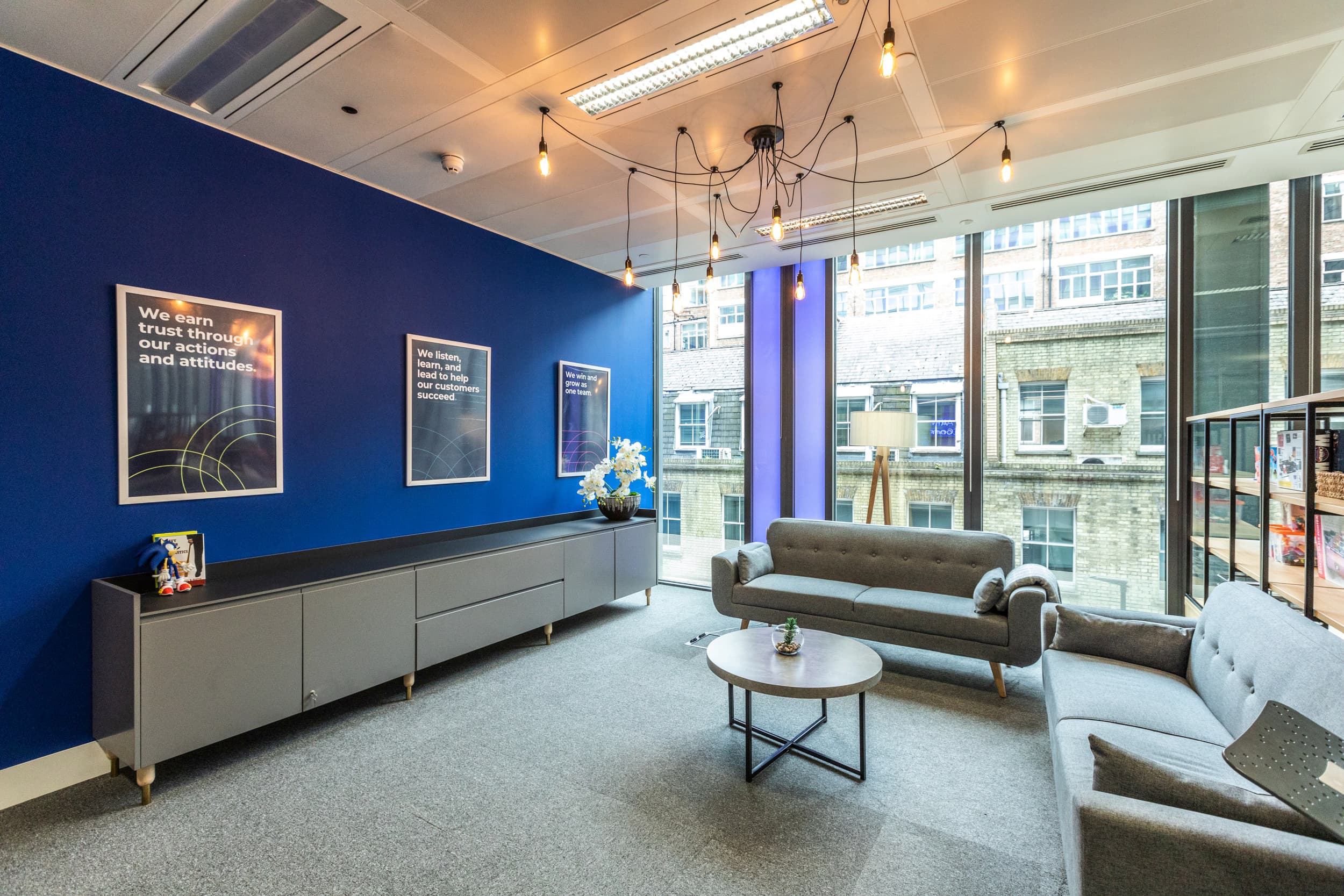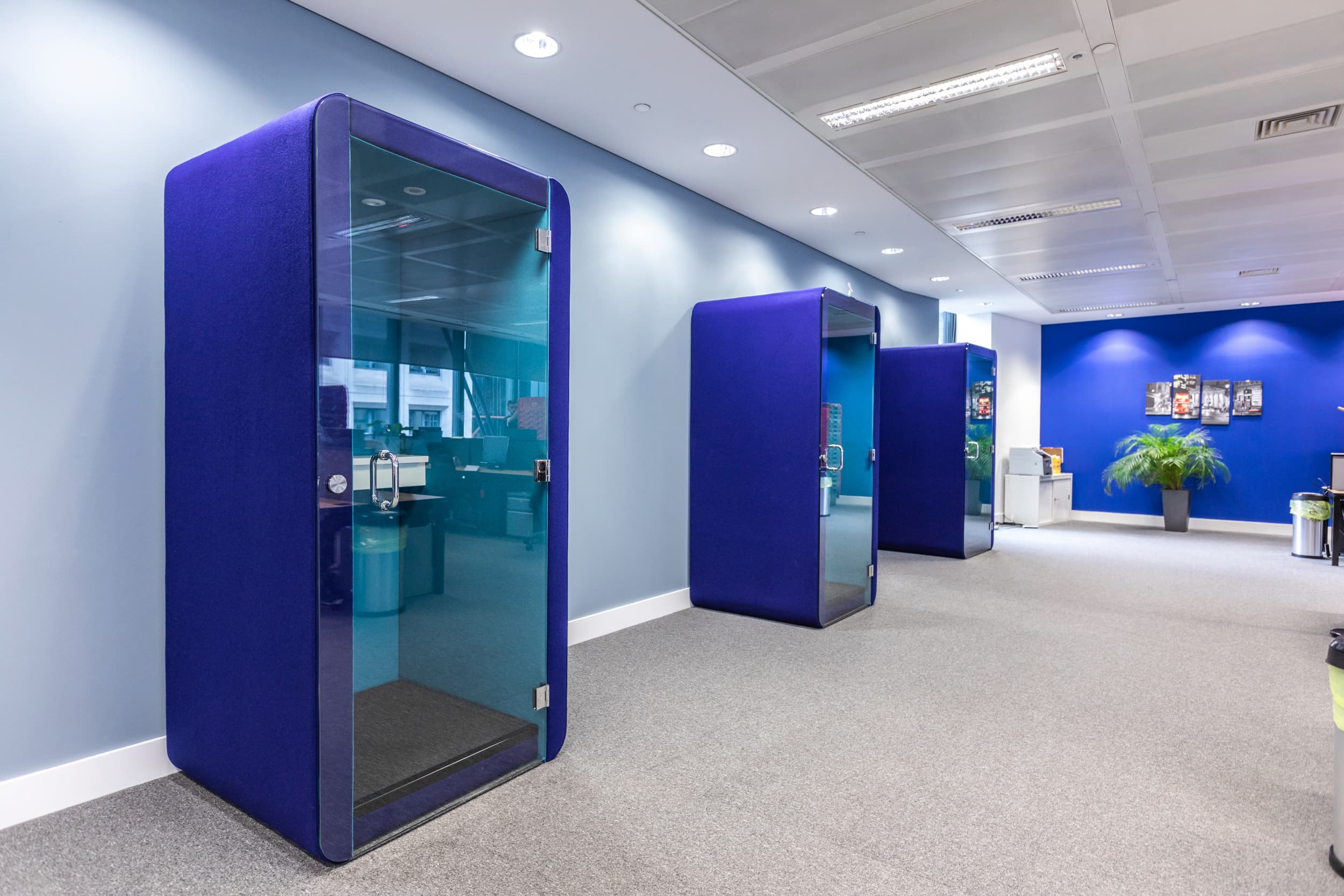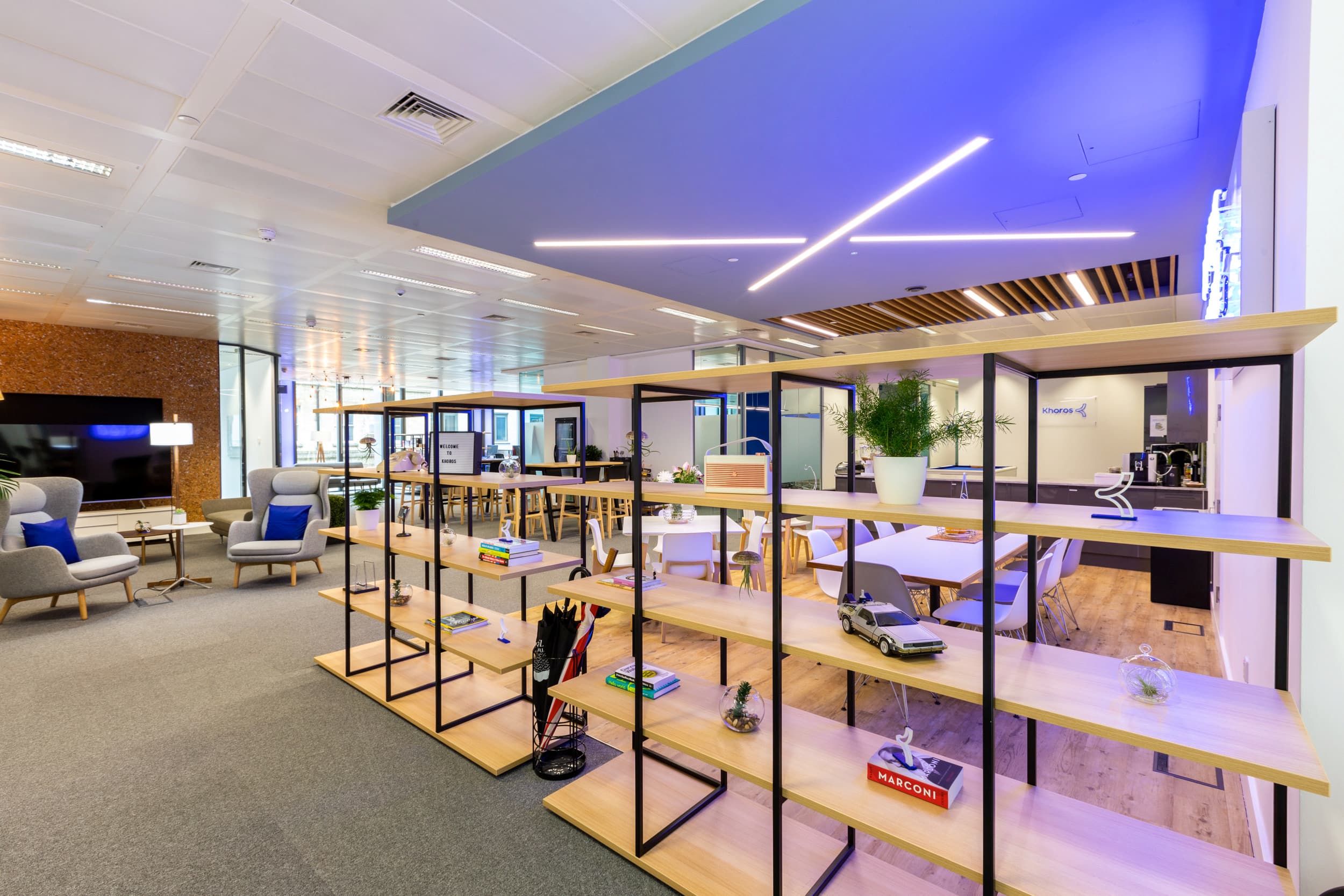 The IRS solution
Our first tasks were to work with Khoros' property agent, lawyers and management to prepare a schedule of condition, dilapidation reports and possible plans to accommodate the next few years of the business needs.
Meeting rooms are always in short supply, so we constructed one additional meeting room as well as hot desk and soft seating areas that staff could use to drop down and meet together.
In a modern open plan area, sometimes you just need somewhere to shut yourself away for a private conversation and so standalone booths allow staff to quickly pop in and chat in privacy.
As a sociable company, games and a pool table also provide staff a chance to relax and interact away from their PCs; being within the new tea point space really brings together a feeling of social interaction for the company.
The modern office requires staff to spend time at a workstation and, having only recently purchased new furniture for the previous office, it was important that we were able to reuse the bench desk system and add to it, to allow for additional workspaces for the new staff.
Finally, to personalise the new offices and really make them Khoros' offices, we provided new signage, manifestations to the glass partitions and painted the walls to suit the company's current colour palette.
How we worked with Khoros
We undertook the brand personalisation in conjunction with the US marketing department, including new neon lighting and series of glyphs - an elemental symbol which represents a readable character, such as a hieroglyph - at the entrance way that really let visitors know who they are coming to see.
For the move, we organised the relocation from Covent Garden to Holborn, minimising the company shut down so that equipment, PCs , comms rack, server equipment and existing furniture were all moved to the new offices in time for staff to get back to their desks on Monday morning, right on schedule.
To find out more
If you would like to find out more about how we can help develop your dream office space, give us a ring on 020 8405 0555 or send us a message.