CROYDON shell and core fit out for IRS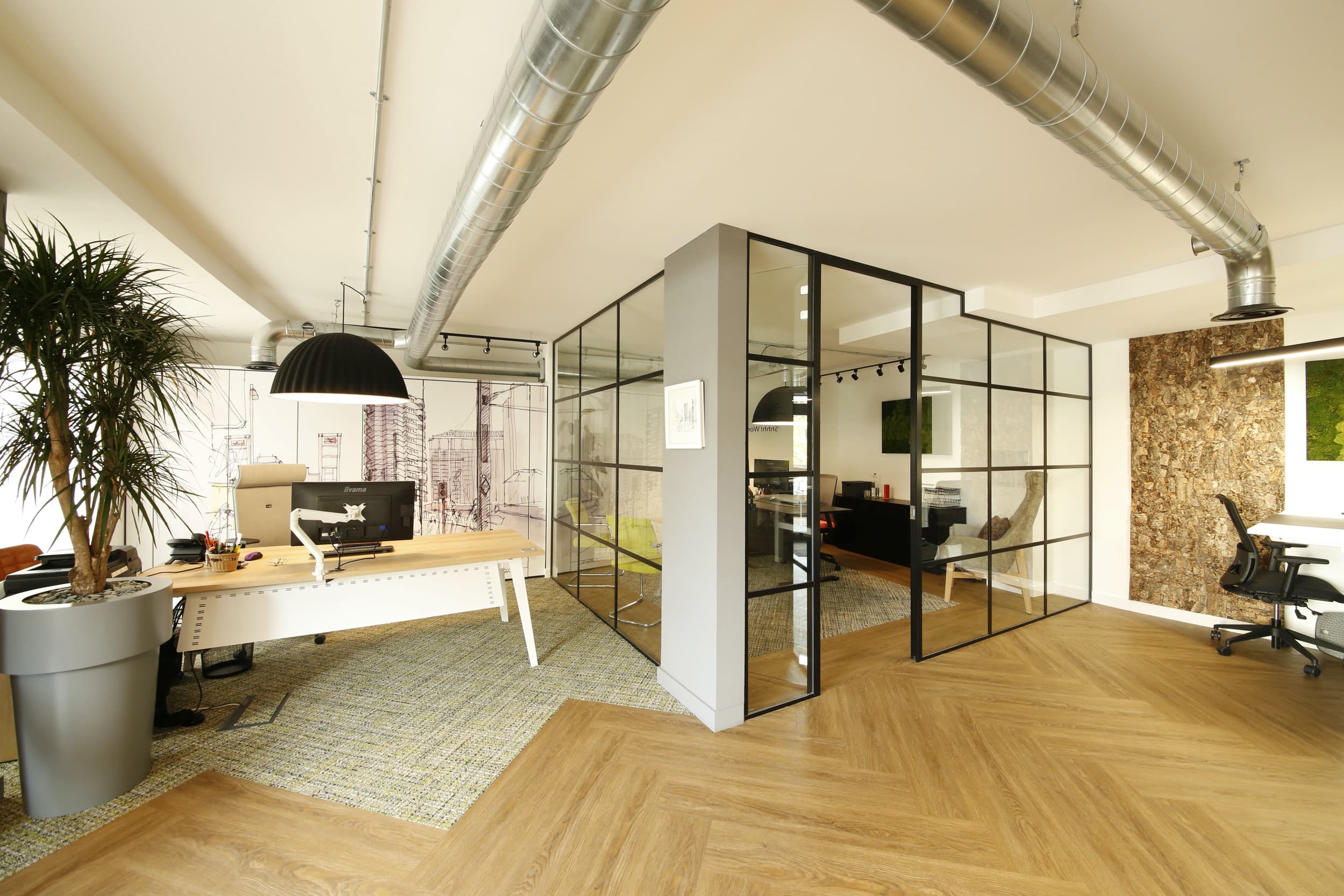 Over the summer of 2018, we completed the work on our new office space, which allowed us to showcase the latest trends in office interior design and innovation using a variety of standard products.
By using readily available standard products which are predominantly manufactured in the UK we wanted to demonstrate the changing face of the workplace where variety is key and there has been a merging of boundaries between the different activity areas by making all the space more flexible and hard working.
If you would like to see for yourself, please do give us a ring on 020 8405 0555 to arrange a time to come and visit our showroom in Croydon.
The concept and design
The start point was to write our wish list of everything that we wanted and needed from the space including a creative design space, a welcoming meet and greet area, a light spacious open plan workspace, a private office for working and meetings, an informal refreshment and meeting space as well as plenty of storage space.
We then spent a great deal of time thinking about how we could showcase several different styles in one space, yet still create a cohesive whole, as well as the more practical items. Throughout the scheme we have included exposed galvanised ducting and trunking in keeping with the more industrial trend that is currently very popular but also gives a high ceiling and a feeling of space. Plain white walls and graphite concrete pillars complete the industrial feel.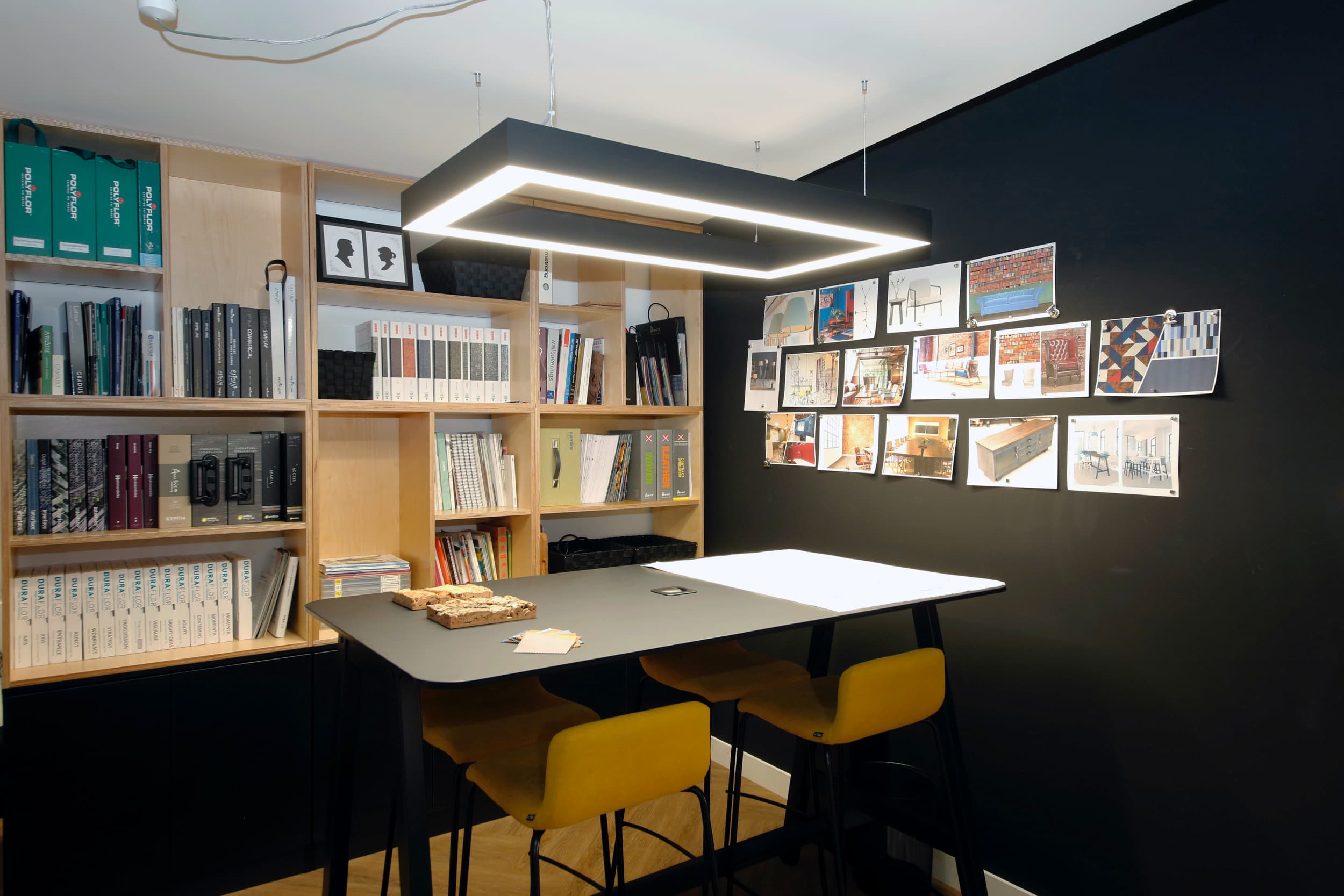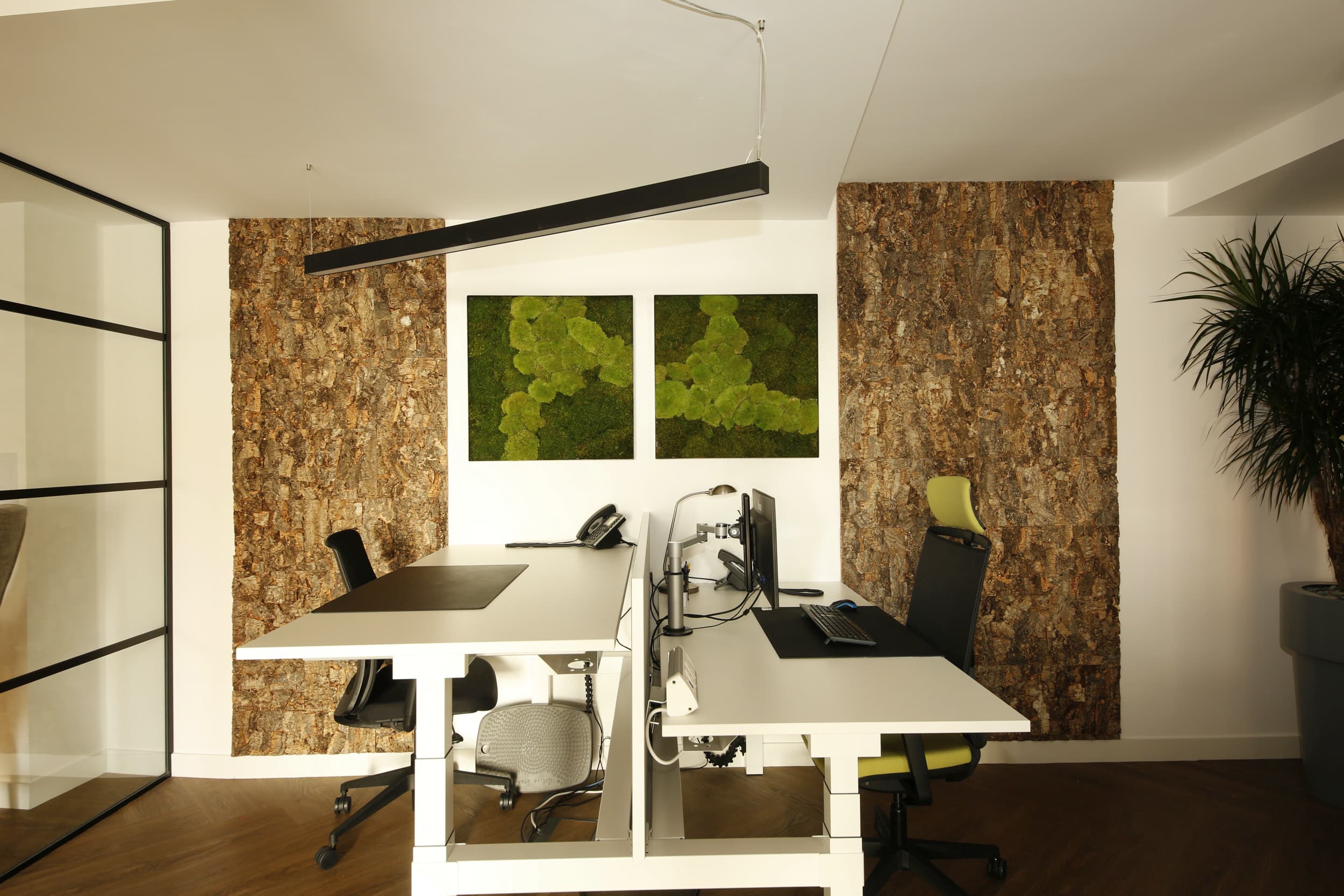 Creative design area

The creative design area features a high bench table and large feature daylight light fitting which provides the perfect environment for creating and laying out mood boards and schemes for our clients.
One wall is painted with a new product to the market, producing a large magnetic chalkboard to pin up drawings, plans, ideas and generally brainstorm a project brief. The second wall is fitted with a combination of open display shelves and cupboards which houses our supplier library and all the various product samples that are typically included within a design scheme.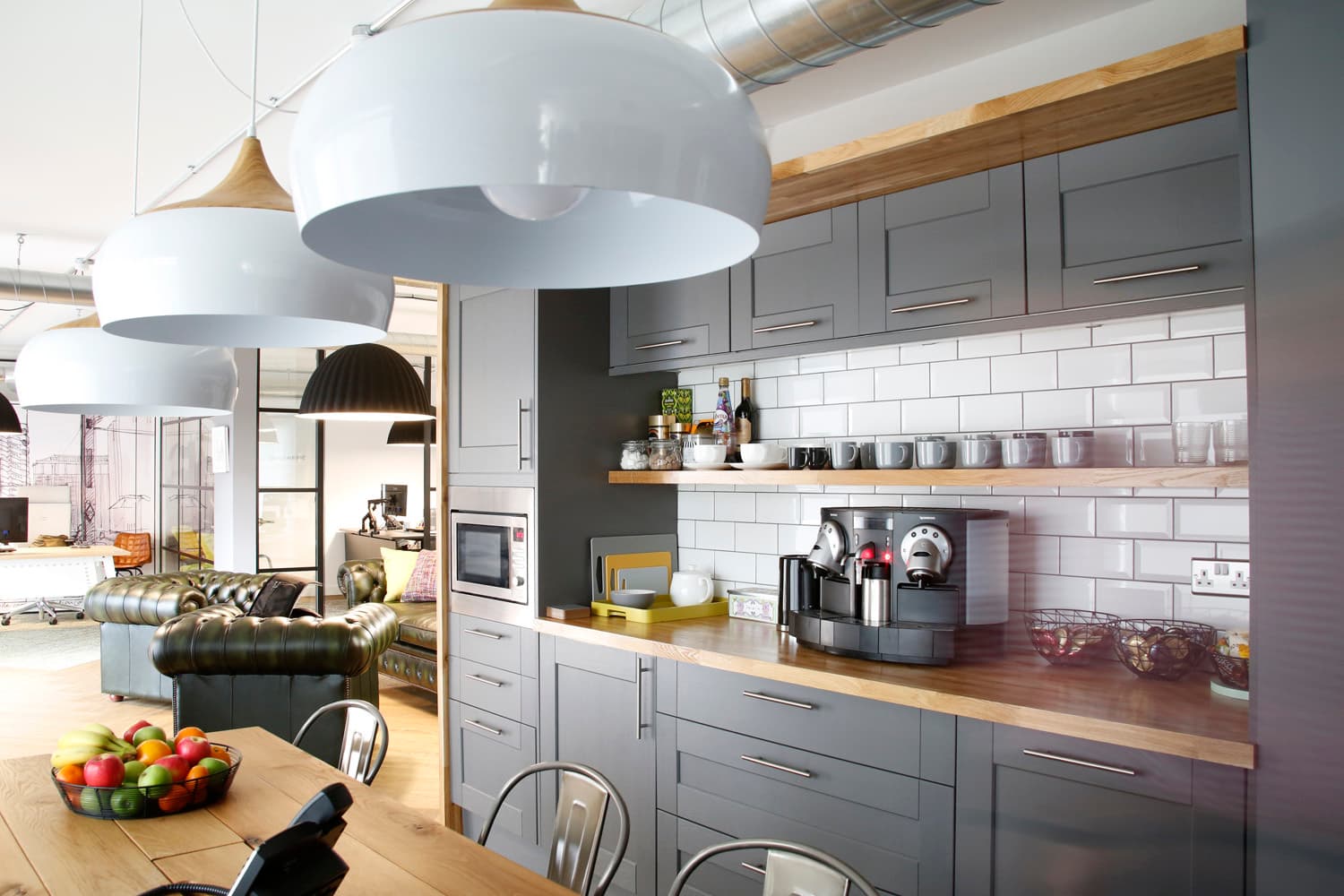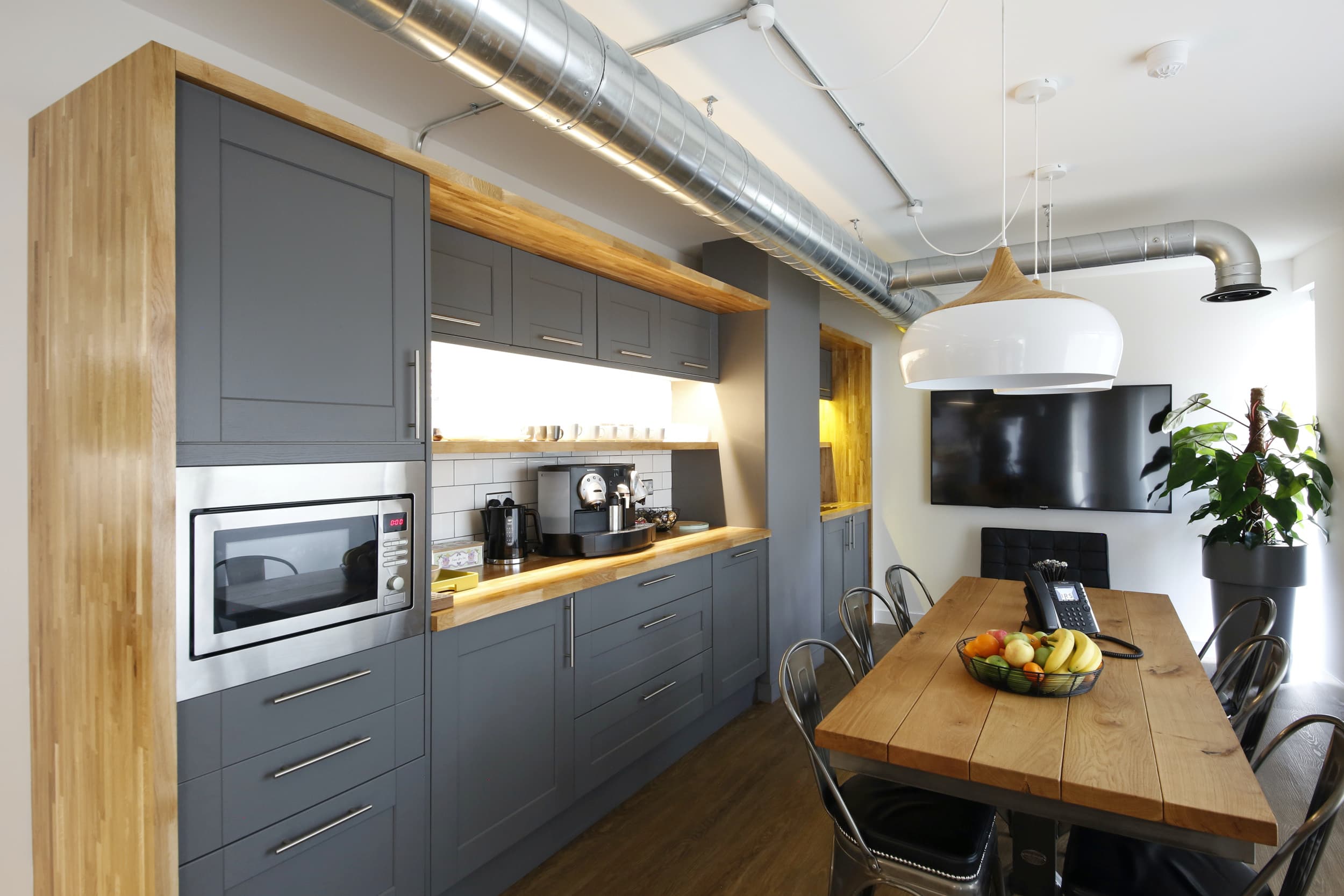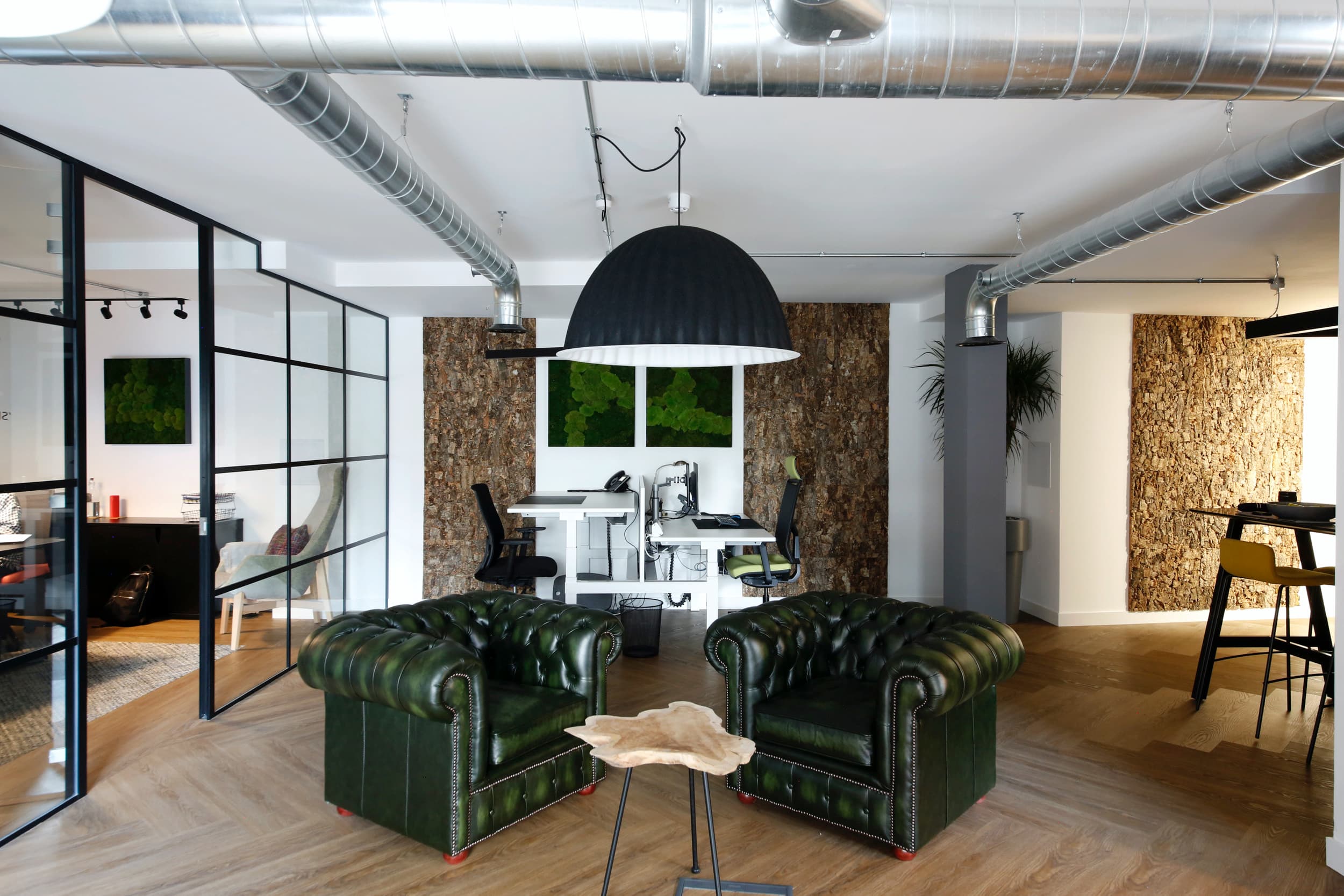 Refreshment area
The refreshment and informal meeting area is purposely dual-purpose to create a relaxed kitchen table environment. The area is also positioned front and centre within the whole workplace design, reflecting the changing office environment where amenity and informal working space is now a priority from the very start of the design process and that space itself needs to work harder and be flexible to adapt to a variety of uses.
We have included a standard kitchen unit range but fitted it with a more open and accessible layout to allow a number of people to use the area at one time. The meeting table and chairs were added to showcase that different styles and materials can all be incorporated within a scheme and that office furniture doesn't need to be 'corporate'.
The washroom was given a totally different feel to the rest of the office with a monochrome colour scheme and bold orange art.
The whole space has been designed with flexibility in mind to allow for a continual programme of change as our own company grows, develops and changes. The only fixed areas are the washroom and tea point.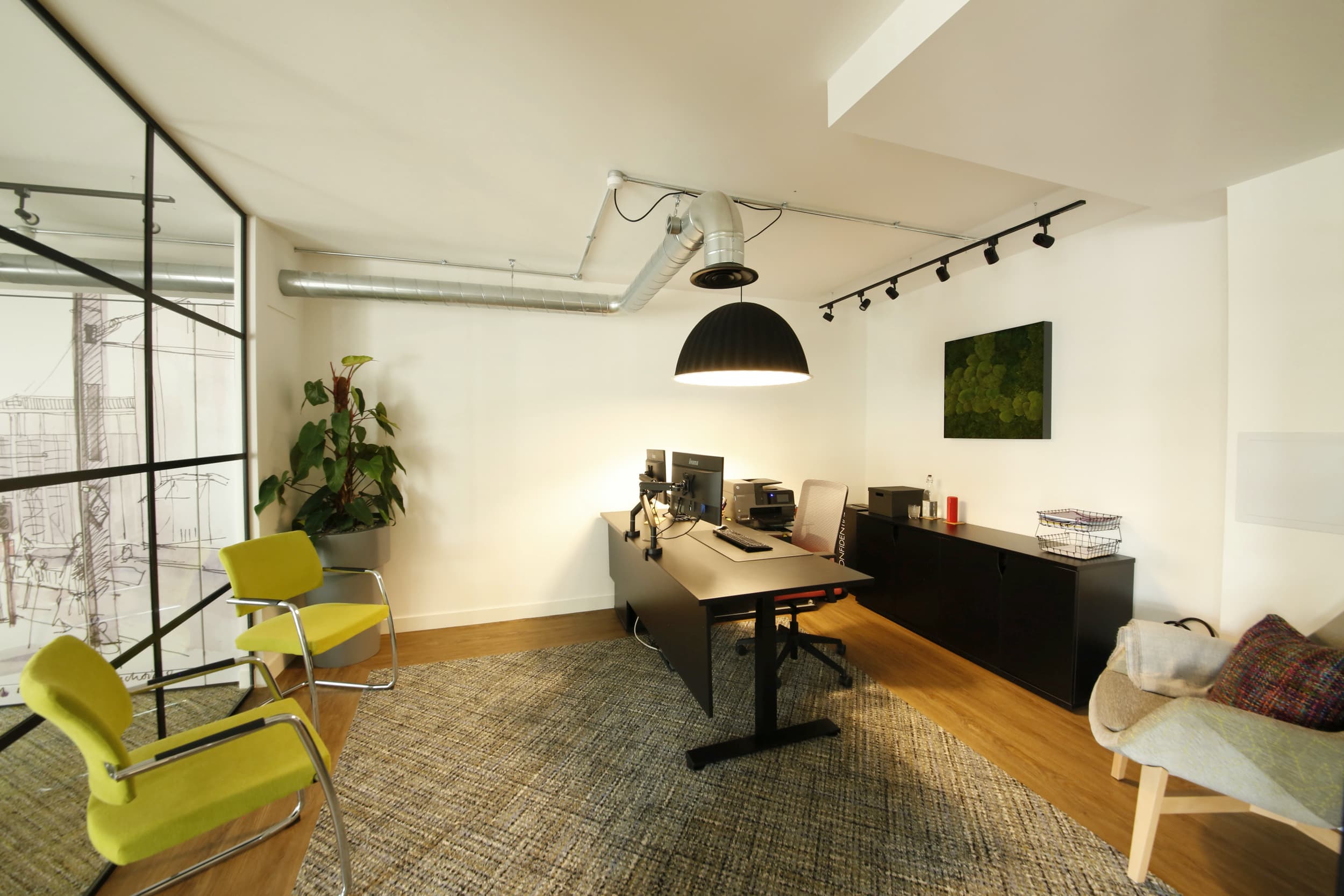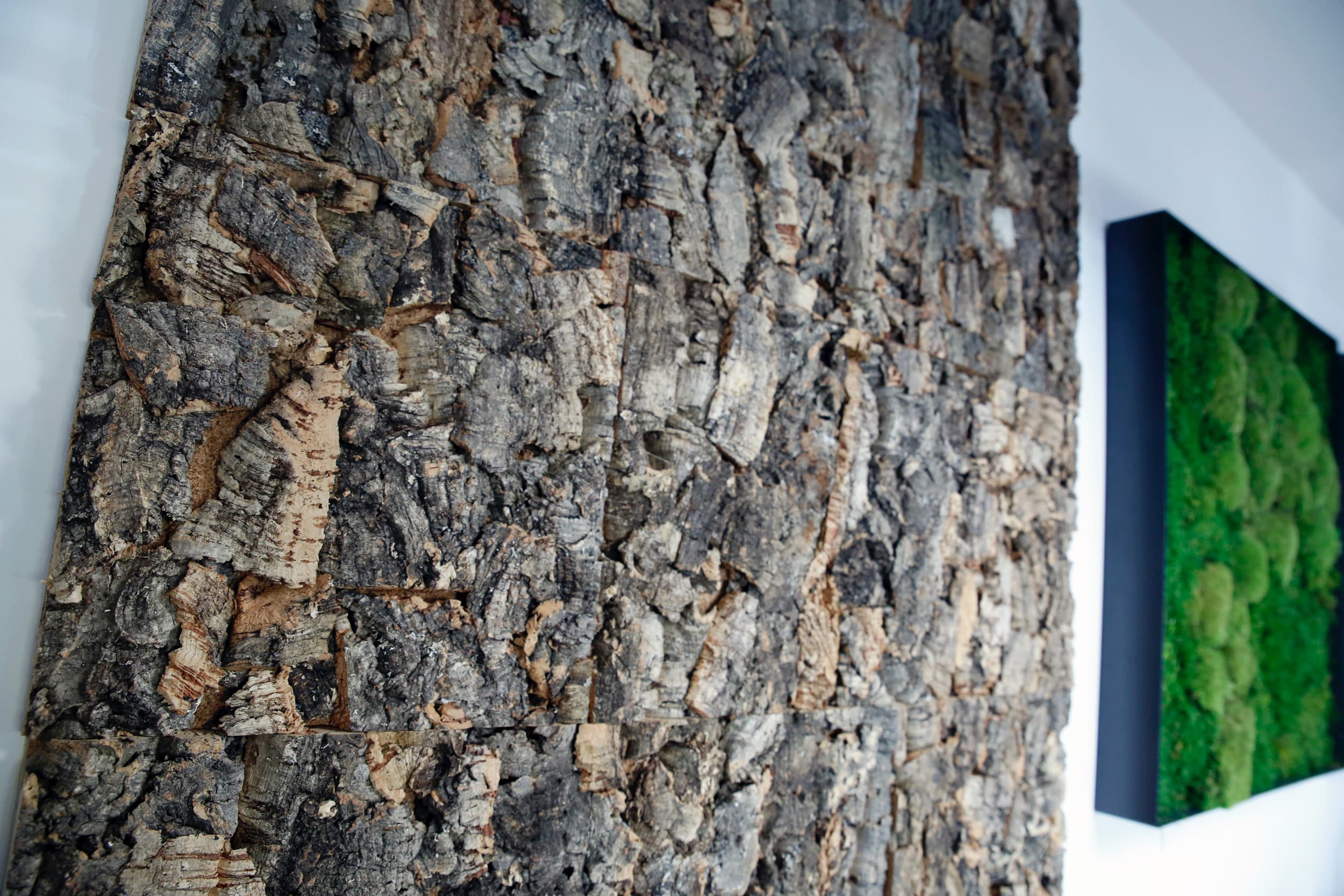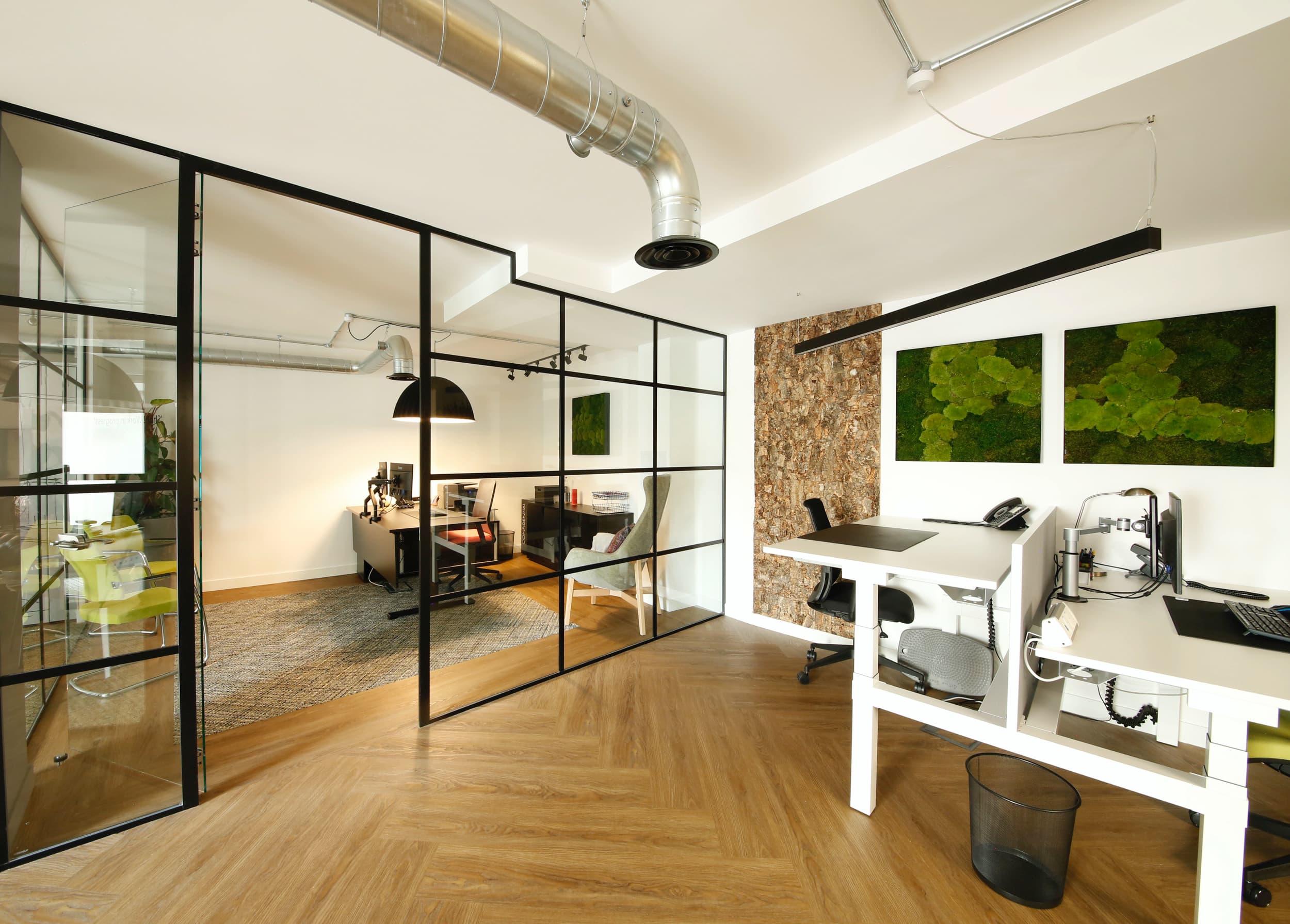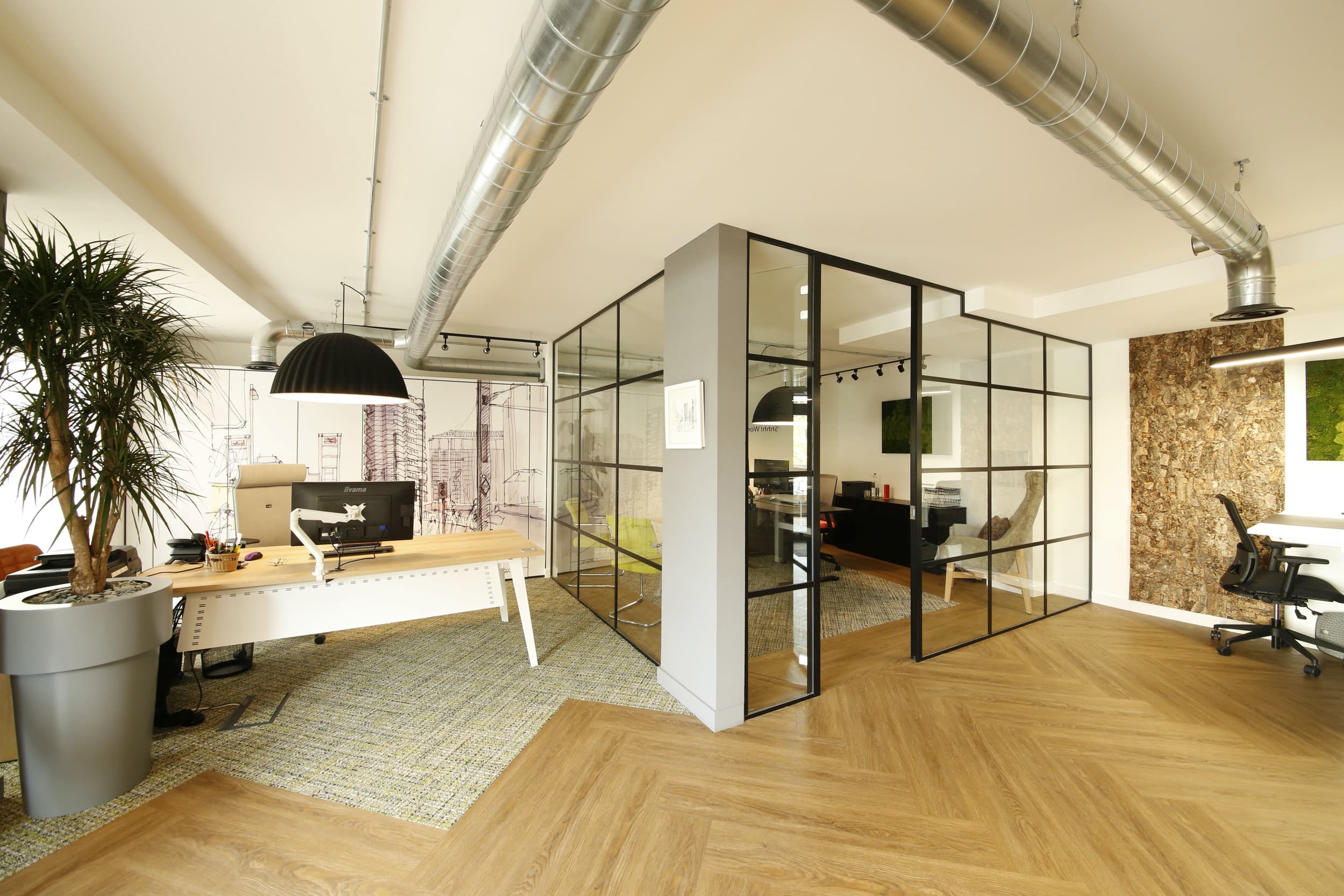 New innovative products
During 2018 we attended various tradeshows and exhibitions to find new innovative products being launched which we can offer our clients and incorporate into our schemes. The new magnetic flooring from INTRAtile and the cork oak raw bark wall tile from Durawall are two prime examples which we have included within our scheme.
We installed a metal raised floor to allow data and services to run below and typically plywood would be screwed down on top and the final floor covering laid on top of that.
However, we wanted to introduce a new innovative magnetic flooring product that can be laid without the need for plywood or damaging the metal floor below and this is achieved by laying a magnetic sheet over the floor and then laying this new floor tile which looks like standard wood plank effect tiles but has a magnetic backing.
The benefits of this product is that, when we want to change or move, we can just pick up the floor and move it without any damage to the metal flooring below, and this could be particularly useful to our clients and their landlords when moving out of premises and dealing with the dilapidation requirements.
In keeping with our different working environments, we have laid different flooring into the different spaces. In the central area the floor is laid in a herringbone pattern, but this changes to a straight pattern when you move into the refreshment area.
In Bob's area he has carpet to add a softer note and in the private office the carpet tile has been laid as a rug. The washroom has a modern take on Victorian floor tiles.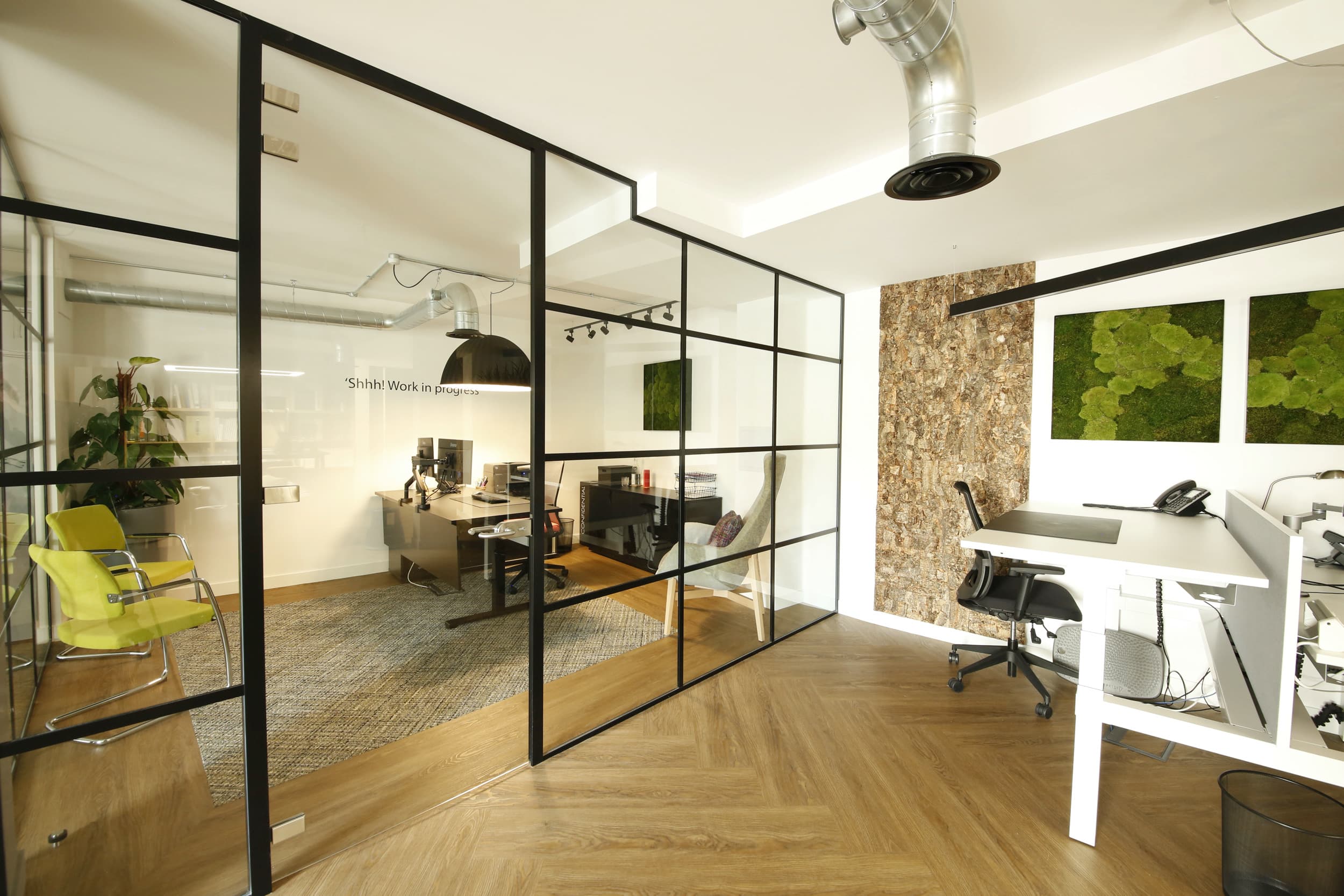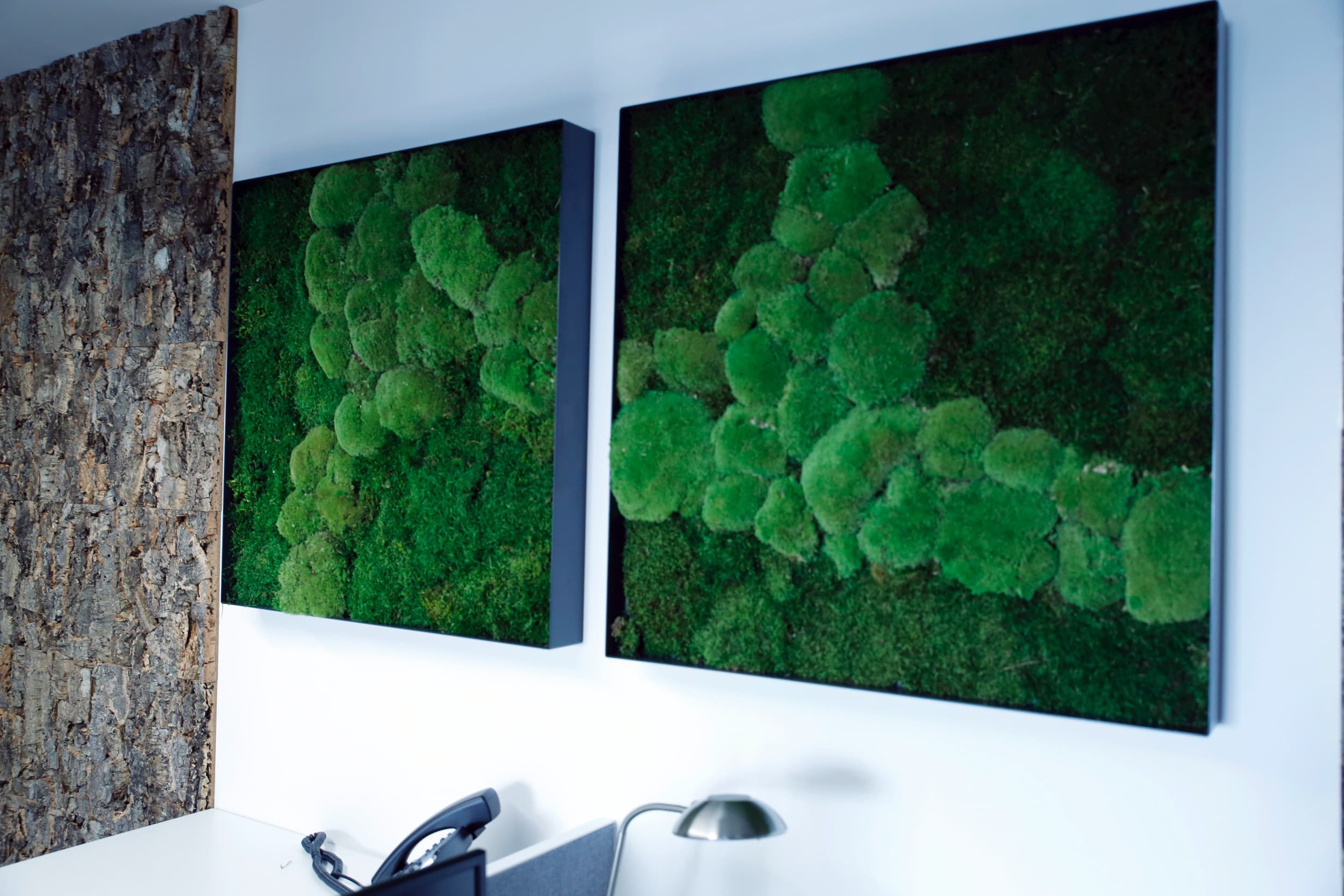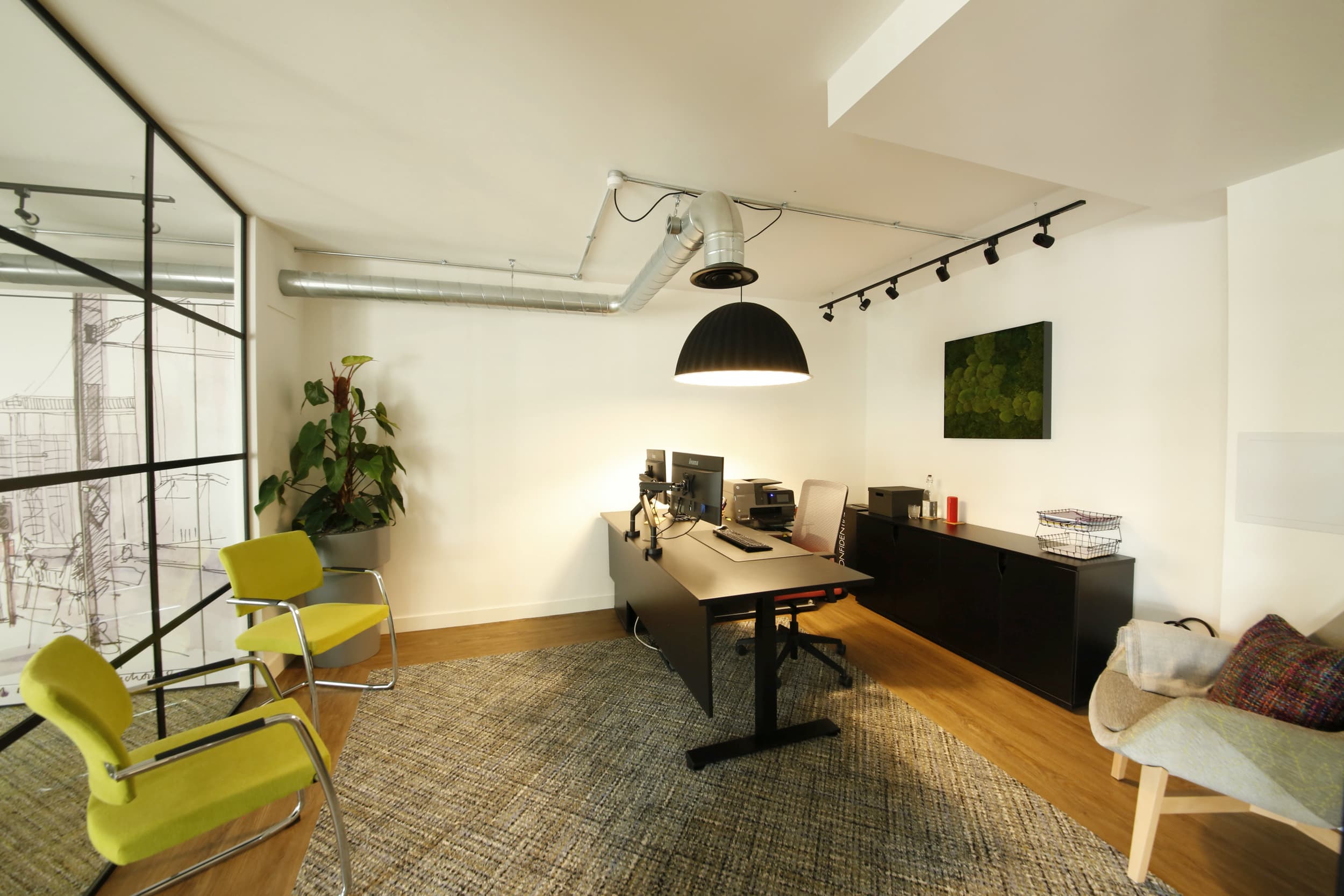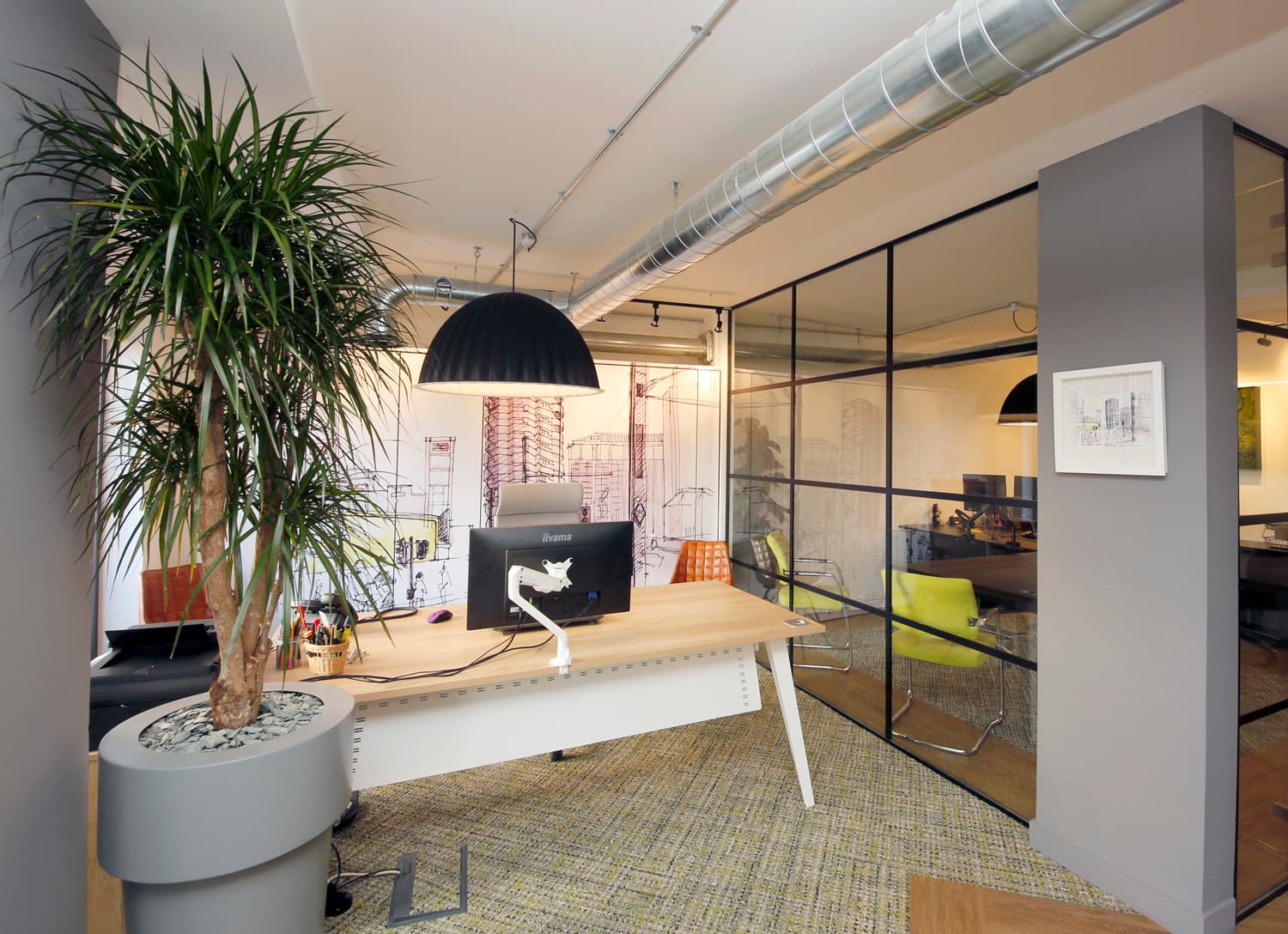 Wellbeing and wellness
Wellbeing and wellness are now top of the agenda for the workplace and this includes elements such as lighting, clean air, biophilia and a comfortable working space.
We have included these concepts within our design with the different lighting solutions in the various environments including daylight lighting toward the back of the space with the more traditional desks and focused workspace.
Softer lighting, including fittings with acoustic properties, are spread across the area to help reduce and dampen noise levels together with the bark of a cork oak tree and moss wall panels which bring natural elements into the office.
The cork oak tree bark is has excellent elasticity, acoustic and insulating properties and is harvested by hand, making it a renewable, recyclable and biodegradable material. Each piece is totally unique.
We've also personalised the space to make it ours, using a variety of colours and textures as well as feature pieces of art, but we have also consistently selected regular products to show what can be achieved by choosing a different colour or size.
We have blurred the boundaries of traditional office design to create what we hope is a comfortable informal but purposeful environment that our team want to come and work in.
Come and visit!
Please get in touch if you would like to visit our showroom. We're on 020 8405 0555.
To find out more
If you would like to find out more about how we can help develop your dream office space, give us a ring on 020 8405 0555 or send us a message.