Don't just sit there get moving!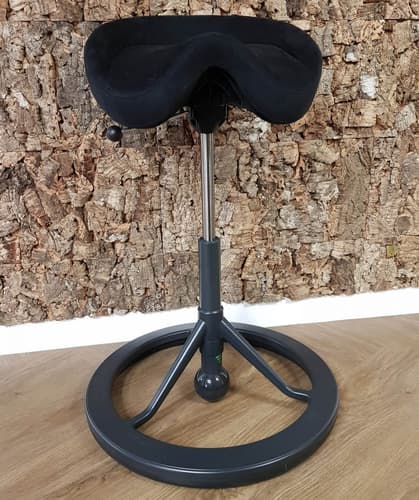 When we visited Work 2.0, we met Mike Dilke from Back App UK and spoke to him about his Back App chair and Active Stand. In fact, he kindly let us borrow one of each and we have been trying them out in the office!
Mike told us that, not only do both of these products focus on health improvements to the body by moving whilst at your desk, they also increase the comfort, efficiently and creativity of employees.
Active Stand
The Active Stand is designed to be used at a sit-stand desk – we have one of those in our showroom too. When standing on it you make continuous small balancing movements which helps with circulation, heart and brain function. The stand forces you into a straight and natural posture while you are working, which in turn prevents neck and shoulder tension and back pain.
Back App chair
The Back App chair has a similar end result, keeping you moving all the time to improve circulation and posture, reducing back pain. It is adjustable, so you can control how much exercise you want to do using the chair.
Mike told us that the Back App chair has been tested by 364 physiotherapists and chiropractors and 98.1% said that sitting on a Back App chair is good for your back.
In this video you can see how someone with a sit-stand desk would use both products to make sure that they continue to move and exercise throughout the working day.
So, what did we make of these products? It didn't take long to get used to the movement of the Back App chair and once familiar, we found it both comfortable and energising. We also really liked the Active Stand and will certainly be recommending both products to clients going forward.
Free trial
Let us know if you would like to find out more about either of these products and have a free one week trial, courtesy of Mike.
Call us on 020 8405 0555.
To find out more
If you would like to find out more about how we can help develop your dream office space, give us a ring on 020 8405 0555 or send us a message.