Making Croydon THE place to work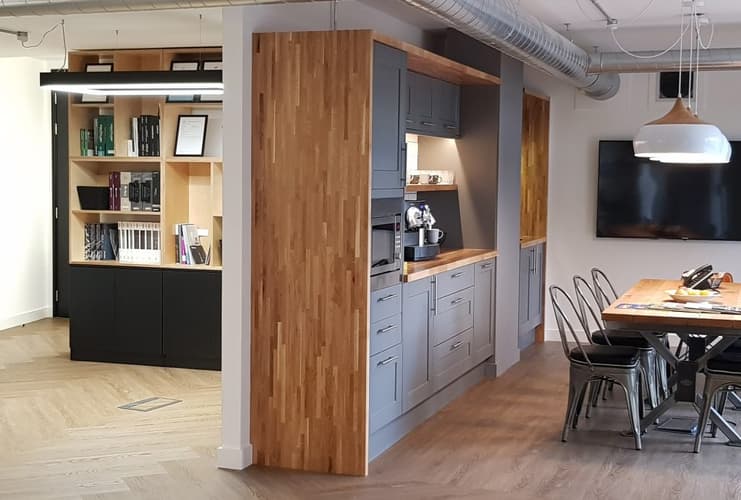 Croydon's regeneration is well underway, turning the borough into a lively place to live and work. As a Croydon-based business since 1995, IRS (Installation and Refurbishment Solutions) is delighted to be part of the regeneration process and, working with clients old and new, we are busy in Croydon.
Arnold & Baldwin
We designed and completed the fit out for Arnold & Baldwin's new headquarters in the New South Quarter development. By introducing a mezzanine floor, the available space now provides a large, light and airy office environment including stunning branded visuals for their growing business on the first floor. Further investment opportunity has been created with a Cat A fit out on the ground floor, which is now ready for potential new tenants to move in and make their own.
Murgitroyd
We helped our long-standing client Murgitroyd, leading IP lawyers, to space plan, fit out and move into their new triple aspect offices on the 8th floor of Croydon's iconic Corinthian House. By creating individual offices and a large open plan area, the space now gives them the specific accommodation and infrastructure they need to continue to grow and develop as one of the leading firms in their field.
Renlon
Understanding the importance of staff wellbeing and keeping up-to-date with working practices, we worked with Renlon to design, space plan and refurbish their premises to create spacious, light and comfortable offices, as well as a large breakout area for staff to move away from their desks to have lunch together or just chat over coffee.
IRS Croydon showroom
There is a saying that you should never work with animals or children. Another should be "never be your own client"!
We too have invested in Croydon, purchasing a new commercial space in the increasingly popular New South Quarter development.
We have fitted it out from its core shell to an aspirational working showroom, installing innovative products from magnetic flooring, to industrial style handmade meeting tables, the latest in sit/stand desks and biophilia including moss panels and bark walls. We worked with local Croydon artist Lis Watkins to include her fantastic line drawings of Croydon landmarks as a full wall artwork applied to the front of the storage wall system.
With new products and systems being released all the time, the decisions on what to include in our showroom and why have been long and hard to make!
These are exciting times for Croydon and, with a variety of more projects both big and small in the pipeline, we hope to continue to be part of the regeneration.
To find out more
If you would like to find out more about how we can help develop your dream office space, give us a ring on 020 8405 0555 or send us a message.