Social hubs and the dizzy heights of innovative workspaces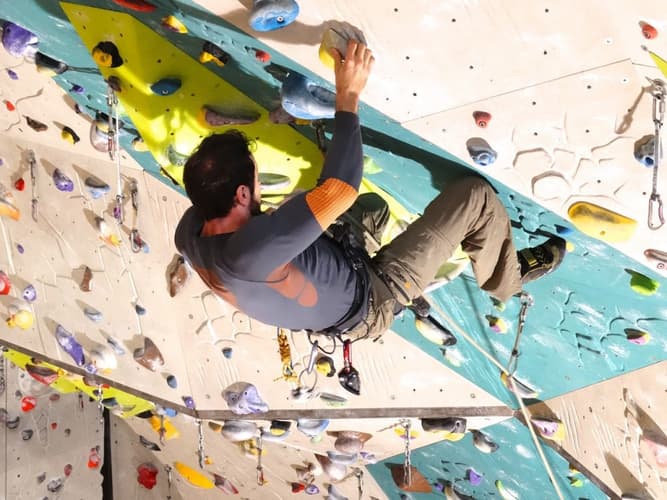 Over the last two decades, the workspace has received far more attention as bosses look to get the best out of their workforce, realising that this included the environment where they spent most of their day.
The key is to benefit the workforce and, in turn benefit the company. But how extreme can the work environment get?
Or should that be how EXTREME can it get?
Announced last month, employees at 22 Bishopgate in the City of London will be able scale a climbing wall as part of the fitness facilities. So what?
Well, they will actually be scaling up a window, 125 metres above the ground in the 62-story skyscraper!
Aside from the vertigo-inducing prospects of looking over the City as you auto-belay yourself up a window, it is part of the recognition that workplaces need to change, to become centres – or social hubs – that bring colleagues together.
Social hubs
For many companies, these social hubs – be it hi-tech coffee shops or even bars – are key to attracting employees to a firm. With pay packets remaining fairly stable, it is these other benefits that can hold the key to getting the best employees out there.
Twenty-Two will not only have workspace for 12,000 people, it will also have a fresh food market, innovation hub, gym, welding retreat and spa, a business clan and a cycle hub.
Another company to take the wellbeing approach is WeWork which now has 12 locations in London. All their office spaces have breakout centres were people can relax, bar areas for socialising, bike storage and showers and a pet-friendly policy so you can bring Spot in if he's feeling a bit lonely.
On a smaller scale
For the smaller office, you can look at these innovative spaces and think – well it is easy for them.
But a degree of planning and re-organisation can give you the benefits on a smaller scale.
Look at your space, is it being utilised it get the best out of your co-workers? Perhaps a couple of sofas near the tea facilities? Better lighting? Look at your space and think what would increase productivity.
Can the space fill a social role? Is it conducive to informal collaboration? For most people, gone are the days of the smokers' huddle and for the Netflix, Amazon, binge-watching generation, the water cooler is no longer the hub for these interactions. So, can you use your space to help?
If you have a few cyclists in the firm, see if there is any spare space that can be converted into a drying/locker area for kit or strike a deal with a nearby gym to let longer commuters or fitness fans use the facilities if you cannot have them yourself.
The office plays a major part in the worker's life and just as technology improved productivity so can the environment. So, watch this space!
To find out more
If you would like to find out more about how we can help develop your dream office space, give us a ring on 020 8405 0555 or send us a message.